Zengo Doha – New Brunch in Town
Zengo Doha has been the talk of the town recently, and with their new Friday Brunch option, you do not have to sell your left kidney to sample some of Doha's best Asian cuisine.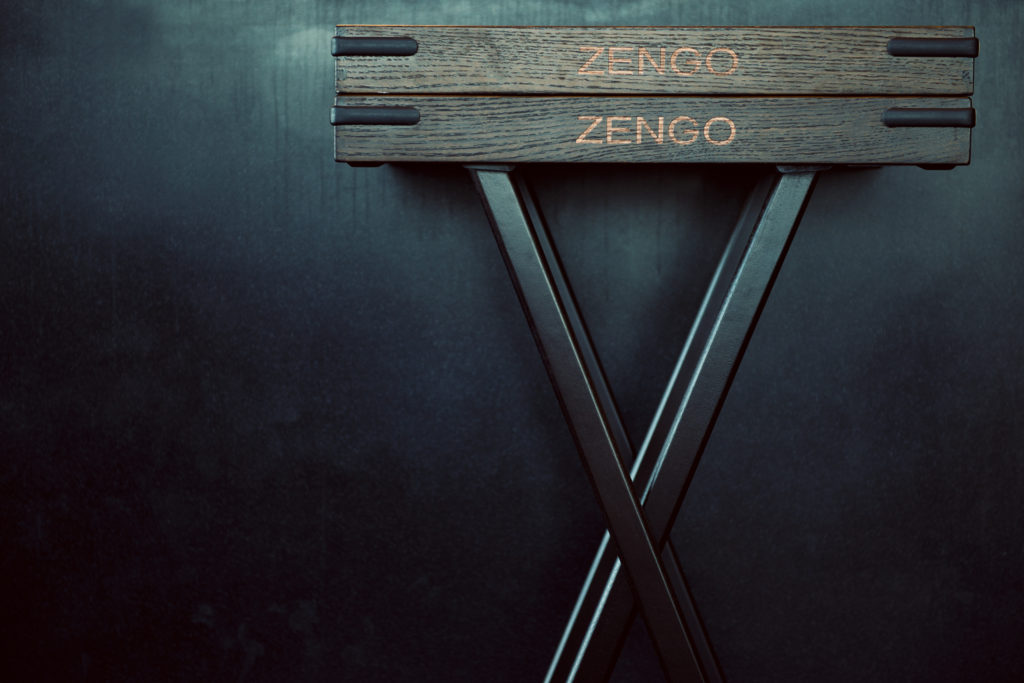 Richard Sandoval's fourth restaurant in Qatar is a stunner. Inspired by the ancient spice routes from Asia to the Far East, Zengo Doha has an exciting menu that offers a unique twist to authentic Pan Asian cuisine.
Zengo Doha is located on the 61st floor of the Kempinski Residences and Suites in West Bay, right opposite the renowned Zee by Zengo Lounge. You know, that place with giant red sofas and a killer view.
So luckily, they skipped the giant red sofas in Zengo Doha and retained their almost panoramic view. And that's the first thing you are going to notice when you enter the restaurant. Shining turquoise blue waters, the bluest skies, and then you look down and see that even tiny houses look good from up there.
Ambience
Zengo Doha has a great afternoon vibe to be honest – especially if you're looking for something more exclusive. The place is massive, minimalistic and yet, has real charm. Origami birds adorn the ceilings and tables and clearly, there is no such thing as too much bird! So if you're lunching and look up to find birds floating above your head, this is completely normal. This avian theme is actually quite interesting!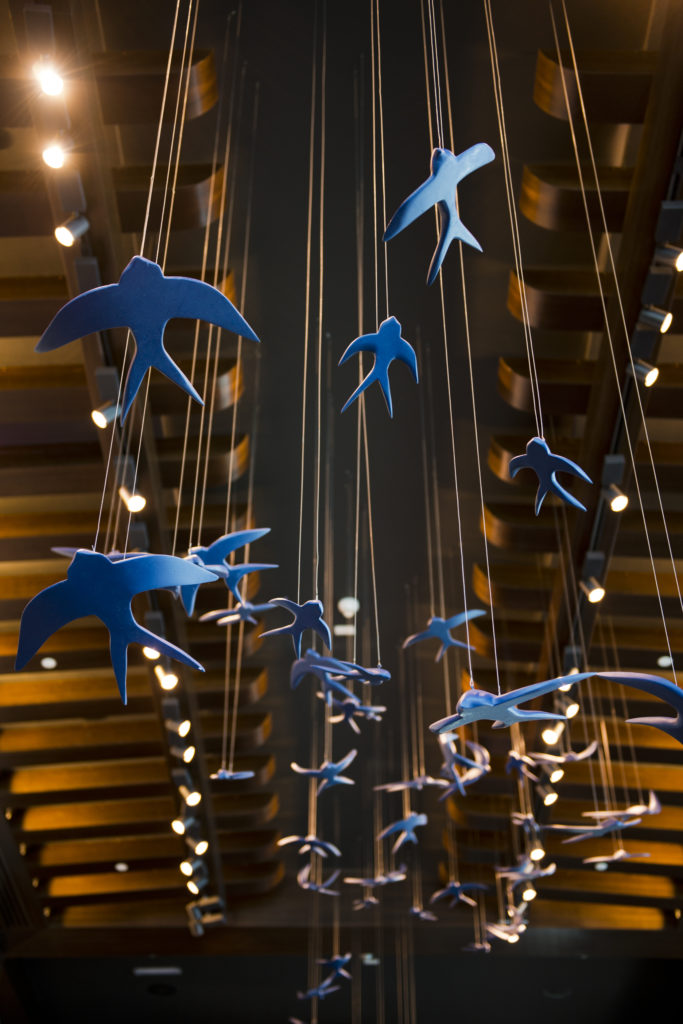 Their play on space and design is fantastic – very contemporary but still something rustic and classy about it. We already pictured a retro style high-class Mannequin challenge being shot here, but tough, the mannequin challenge is very November right now!
The entire seating area is spacious, features medium-comfort black and gold chairs and tables, woodwork all over and yes, birds. They also have a more private seating area upstairs, with a Zee Lounge style spiral staircase leading the way, encased by an enormous cage, because you know, bird.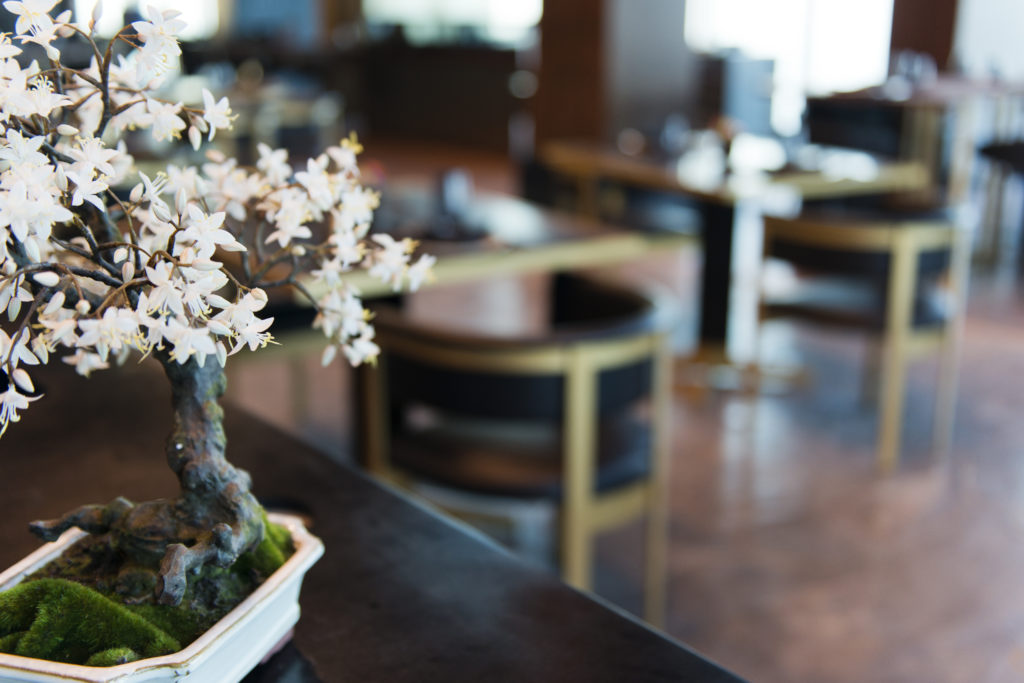 Their attention to detail is inimitable, right from the cutlery and napkins to the stirrers at the bar. Every tiny inch of Zengo is well thought of, and eating at a restaurant like this is pure bliss, especially if you're the kind who pays heed to the tiniest detail. That same kind who will not accept one single sesame seed on their bread (yes, we know people like that).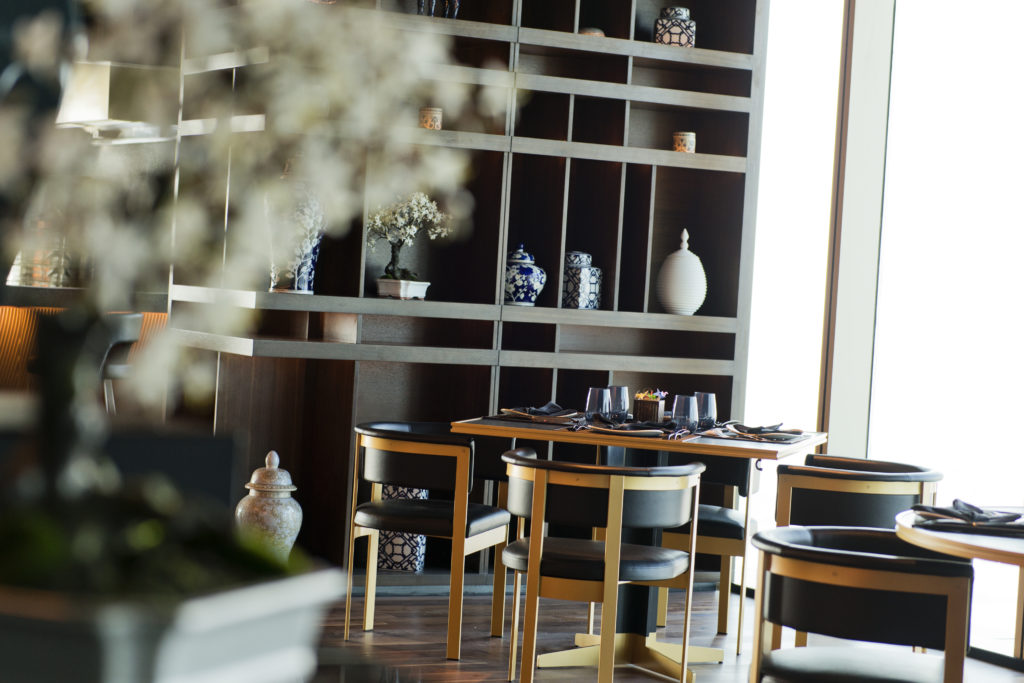 Enough about the ambience!
Zengo Doha food
So we've tried our fair share of pan Asian food around Doha, and the best at that, so it was quite natural to have medium expectations from a new place.
WRONG. BEST FOOD EVER.
Zengo Doha really surprised us with their culinary creations right from the unique and creative plating to the actual quality of what was being served on the plate! We couldn't find anything wrong with anything we ate – everything was perfectly cooked, plated and served.
The brunch is served in a set menu style – which is unlimited of course. They serve to your table, which seems to be quite the popular trend these days. We like the part where we can just sit and laze around while food is being served to us.
Appetisers
While we won't go into details about every single dish that was served, we will say that it was an exciting mix of sushi, salad etc. Some of their appetisers are served with edible flowers and we were just floored at how pretty everything looked. Special mention to the Shrimp Roll, which we ate quite a lot of. We had four rounds. Or five. Six maybe, if you count the one we ordered again after having dessert. Their appetisers are divided into cold and hot, although we are really not sure why Nasi Goreng rice was served as an appetiser. The waiter did explain to us that main course would mostly be meats and seafood, so they wanted to give us a taste of some rice before that. However, we weren't entirely convinced. It was great rice though. We almost finished it!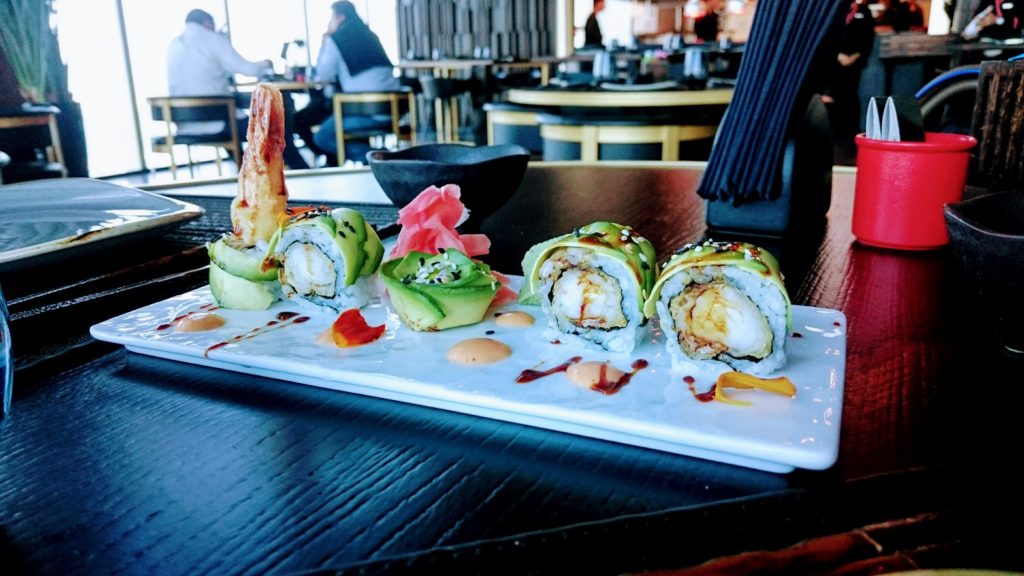 Mains
Best Thai Green Curry we have ever tasted in Qatar. It was so good – it was mildly spicy as opposed to the spicy ones that you usually get, and the consistency was thicker as well. It also had a nice sweetish tinge, and went perfectly with the white rice! The rest of the mains were pretty good too, but the Green Curry stole our hearts. They have fish and meat options, most of them leaning towards sweet-ish.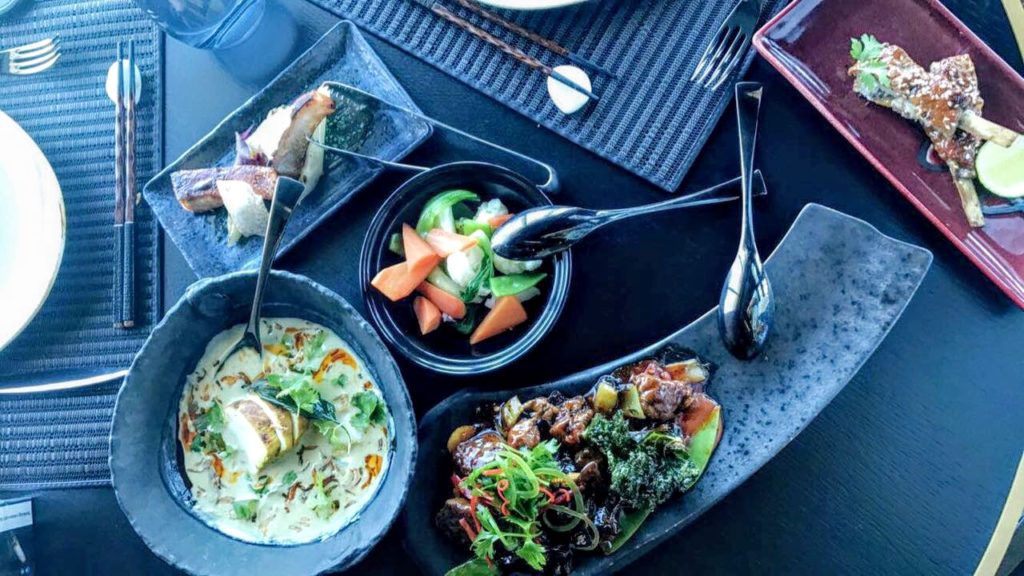 Dessert
Just one dessert! What? They had just one option for dessert – Chocolate Ginger Pot, that's served along with some fresh fruit. The fruits were just okay, they were a bit too cold, but the dessert was amazing. Rich chocolatey mousse – perfectly textured, with a ginger centre, topped with tiny ginger jellies. We normally don't like ginger in dessert, or even in drinks, however this one was great. The taste of ginger was subtle, and not overpowering at all. We wished they had more dessert options and conveyed that to the chef. So apparently, if you are not happy with what you see, they will custom make a dessert just for you, or give you other options! We can live with that.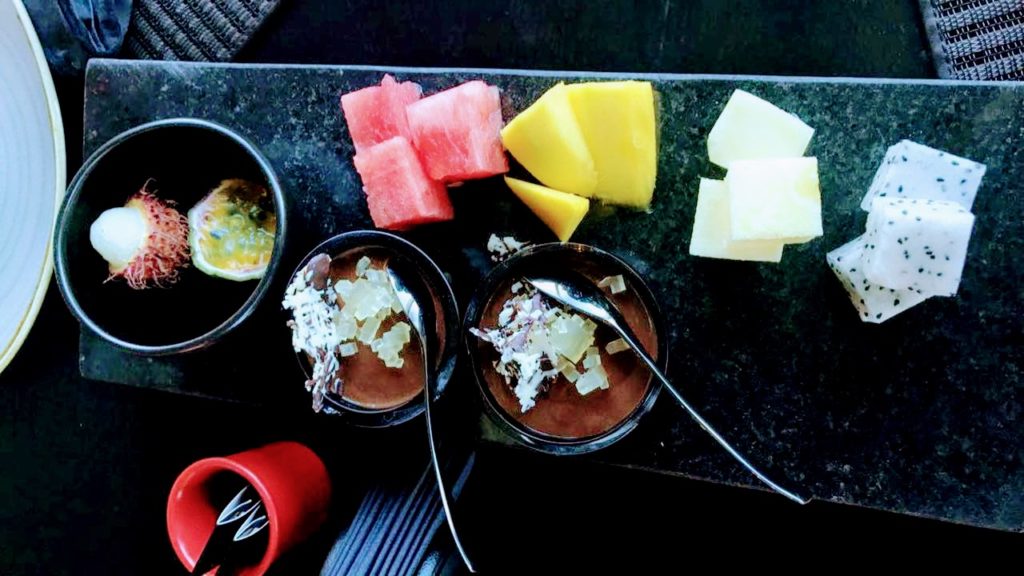 On the whole, the taste was truly beyond satisfactory, the quality of food was supreme, everything was fresh, made to order, and oodles of flavour. The best thing about these kinds of buffets is that there is no wastage. This might be our new favourite thing!
Service
Okay! Not only were the waiters so well informed and knew exactly what they were talking about, they were super prompt with everything and the staff was really friendly and warm. We struck a really fun conversation with the manager, Nenad, and he ended up introducing us to all the chefs. Special mention to Chef Marco who was such a delight (especially to the eyes) and broke everything down for us. We honestly loved how humble they all were, and how willing and happy they were to take all our constructive feedback. Special mention to Chef Marco… oh wait, we already mentioned him earlier didn't we? Some people are hard to forget, sigh!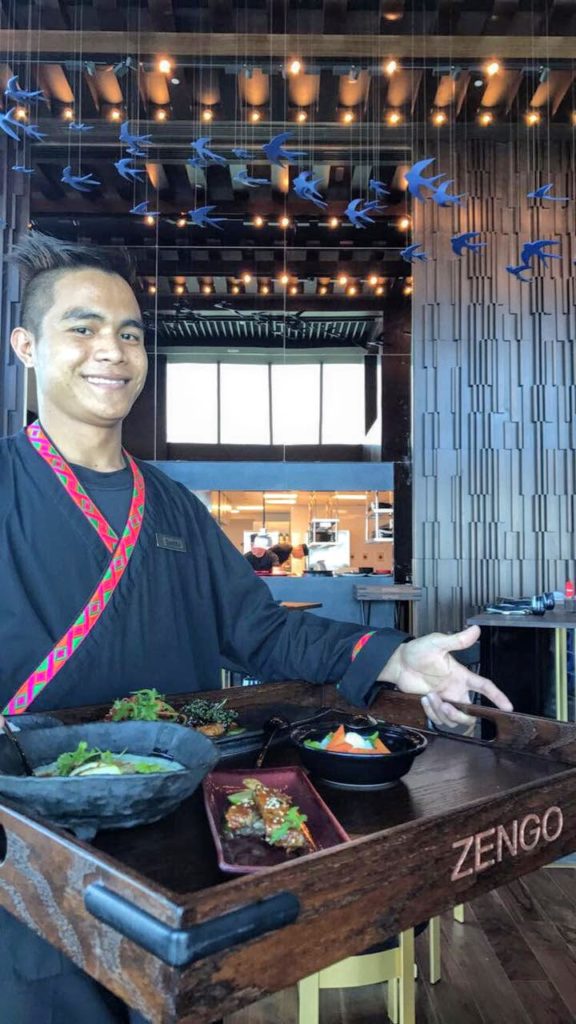 Price
We expected this brunch to cost at least QR 400, but surprise surprise, the brunch costs QR 250 with non-alcoholic beverages and QR 350 with select house beverages. This brunch is actually a great way to experience Zengo Doha, and we highly recommend it because not only do you get to try a variety of their flavours, but you can also keep that kidney for a more expensive brunch that might pop up in the near future.
We also recommend this brunch if you are specifically looking for great food in a sophisticated atmosphere. No loud music, no screaming kids (hopefully) and no thick smoke above your head. The bar/smoking area is tucked away near the staircase, and doesn't come in the way at all – so non-smoking diners do not have to worry about this. They also have a great selection of soft music. And if you are not entertained enough, just look around you and you'll find immeasurable quantities of avian-themed elements 🙂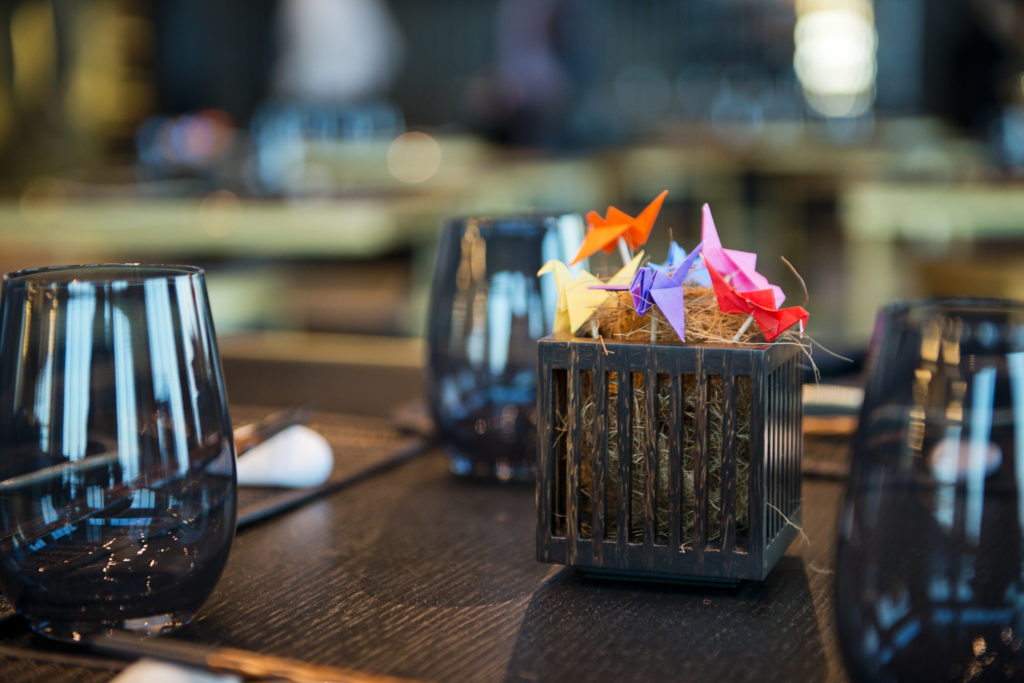 So if you've partied hard on Thursday night, Zengo Doha's Friday Brunch is a great way to sober up (and prepare for Friday night 😉 ). Click here for the location.
They have also recently opened for lunch. If you try it out, let us know your feedback in the comments! And on that note, bird.
Disclaimer – QSG will not be held responsible for anyone eating decorative plants in the food, thinking they are edible.







by