Dining in Doha is not a cheap affair, unless you are 1. A foodie like me and know where to go and what to eat, and 2. You have this inane quality of finding cheap, but fantastic eats. Several cheap eats have been doing the rounds on social media, foodie websites and blogs, but most of us know most of them. So here are my non-exhaustive picks for cheap, hidden gems in Doha, which I have discovered with my unique secret restaurant locating super powers. If you have tried them all, then take a bow! But I bet you haven't 🙂
Eve's, Mattar Kadeem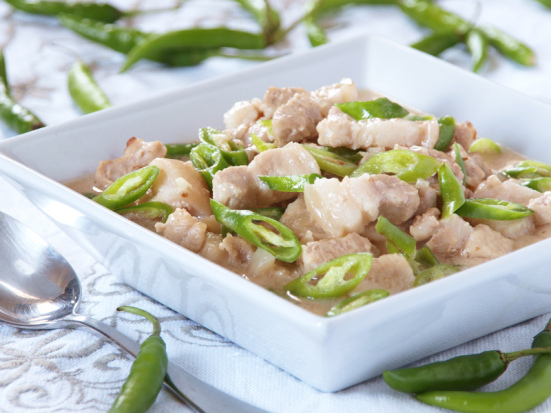 Dear Pilipinos, we have found your ultimate destination. A small restaurant, that serves amazing and cheap Filipino food and has KARAOKE!!! Eve's has the best Beef Bicol Express we have ever tasted, and sisig too. They have a daily menu for 15 QR, if we remember correctly, that has two main course portions, rice, and a drink. We mean wow.
The place is usually never crowded, so if your inner Whitney Houston wakes up, all you need to do is walk 4 steps, pick up the mike and sing like you're under the shower in an open top bathroom! No additional charges of course, and a decent selection of songs, including GNR's Knocking on Heaven's Door, as inappropriate as it might be for that ambience. Don't expect much in terms of seating etc, but we assure you its great food, great service and great prices.
It seems like Eve's is more of a catering company, which is why most people might not have actually eaten here. It's also hard to explain where it is located, but it's on the main road, although you can't see the name of the restaurant from outside. This place is so secret, that it's not even on Zomato – a topper among the hidden gems. So thank us later in cash or kind.
Location: Take the left at Lulu Signal on D ring Road, if you are driving towards Shamaal. There are a few houses around 300 metres ahead and it is in one of those villas.
Nepali Kitchen, Musheireb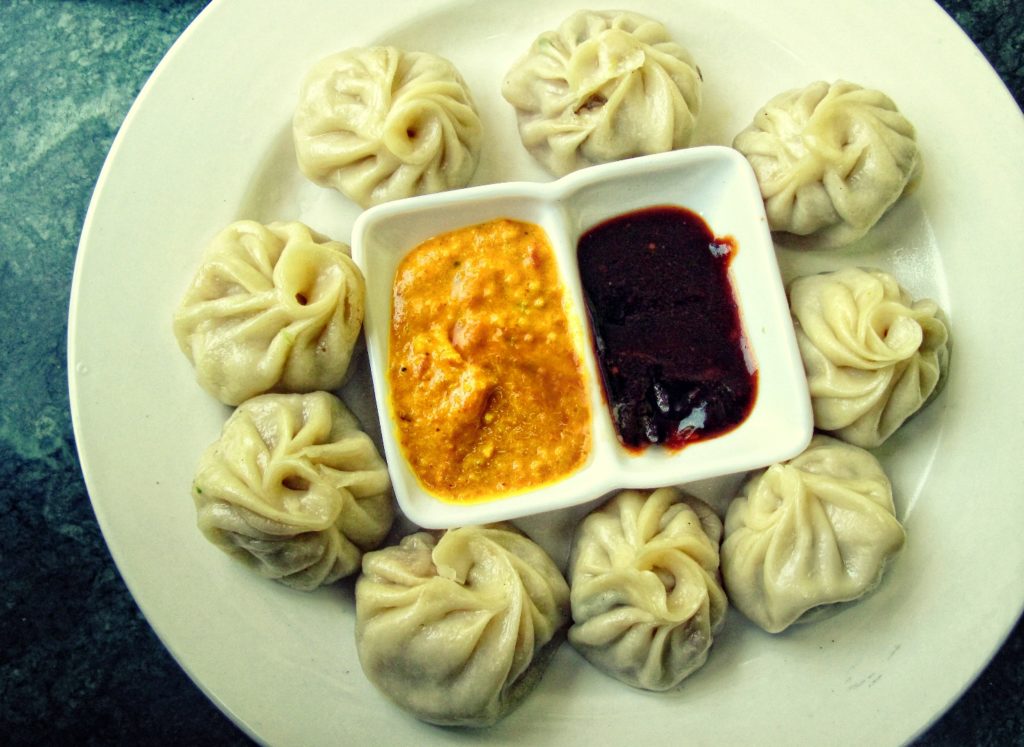 We are not sure how high this ranks under hidden gems, but a lot of people we know, didn't know about it. Small restaurant near the Woqod Pump at the beginning of A Ring Road, with no parking whatsoever. They serve the tastiest momos we have ever had, steamed and fried varieties. They also serve the regular noodles, and some other Nepali dishes. Everything is reasonably priced and tastes fantastic. We highly recommend you call them and order over the phone, and then drive by and pick up your order, because we assure you, your eyebrows will turn white while trying to park in this area.
Location: Take the left when you see Woqod on the A Ring Road, if you are driving towards Sword Signal.
Minang Indonesian, A Ring Road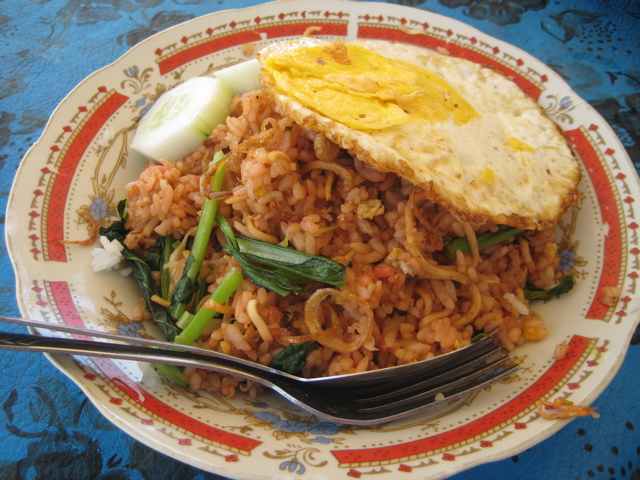 This small but authentic Indonesian restaurant serves up some great fare, at very reasonable prices. As usual, it is hard to find parking, and slightly difficult to locate.
The interiors are very basic, don't expect much, but they are hygienic and the food tastes really good, and by now you already know these features are typical of hidden gems!
They do spicy and non-spicy variations of everything, so if you are up for it, take the plunge and order their spicy chicken Nasi Goreng. You have been warned, reader. They also have a variety of bite sized Indonesian specialities. The food is not expensive at all, the Nasi Goreng and other similar rice or noodle based dishes cost an average of QR 25, with really good quantity.
Location: It's opposite Qatar Palace Hotel on Al Asmakh Street.
Unknown Pakistani Kitchen
We don't know how to say this, but you guys are going to love, love, love us for this insane discovery. This little Pakistani kitchen redefines hidden gems in Doha. It is the smallest possible restaurant you can imagine, literally one tiny room, and run by a few (actually just one I think) Pakistanis. The food may be overly oily, but they charge ONLY 11/12 QR for a container three-quarters filled with the best mutton gravy dishes and quarter filled with oil. Don't complain for 12 riyals, just drain the oil and savour the most amazing Dal Gosht ever! They have bhuna, kadhai and some othere popular dishes. They also make fresh khuboos, massive in size and it costs only 1 QR!
Now the first problem we have is – we don't know the name. It's a long funky name that we literally could never catch. We don't even know how to explain the location to you all, it is so, so secluded.
Here is our first attempt at explaining where to find it – if you are driving from Ramada Signal towards Jaidah flyover, take a left under Jaidah, then second right immediately after Quality Mart. After driving for about 200 mtrs, you will reach a small crossroad, take left and continue for another 100 or 200 metres. You will see a left turn, that leads to the main road. Exactly at this point, you will find a shop with lights on – it's probably the only light you can see around you. This is it! Working on getting a location pin across to you all.
Update: We found out the restaurant's name. It's Saeed Hamdan Al Meraikhi. Yeah, we had the same expression too! Click here for the location.
Italia Mia, Souq Waqif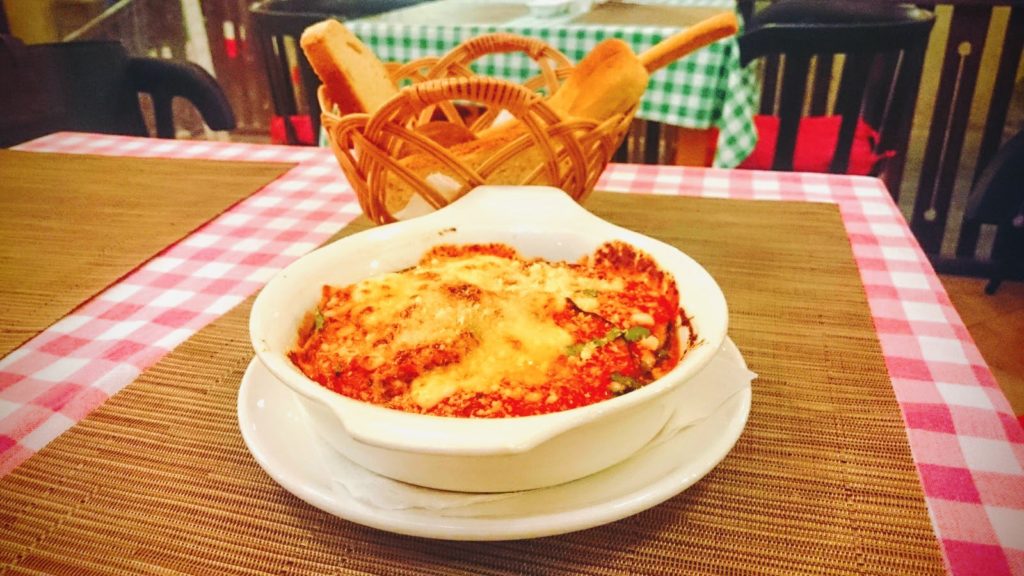 We very recently discovered this place, thanks to a friend. There are so many things that make this little joint perfect, making it figure at the top of our hidden gems in Doha list. It's very atmospheric. Calling it a cute little Italian restaurant tucked away in a secret alley behind the popular walking streets might be a little dramatic, but when you actually go here, you will know what we mean. They have three areas – the indoors or the actual restaurant, the outdoors that feel like indoors (read shisha is served here in air-conditioning) and the outdoor area. The only disadvantage is you cant people watch if you go here, but if you are looking for some quiet time, over great shisha, and reasonably priced Italian food, you have a winner.
We have a little secret to share – they serve paan shisha here, which almost nobody knows about. It's not on their menu, but you can still ask for it. It costs QR 35, and all their other regular shishas cost 25. Since the place is so small, you can expect fast service. Might we add, their bruschetta plate (3 -4 pieces) is only QR 5 (insert sobbing emoji). The Parmigiana pictured above is QR 18.
If you are a shisha person, you'd know that serving shisha outdoors is banned in Souq Waqif, which is a mega deterrent in the summer months. Considering the limited amount of indoor options we have that serve reasonably priced shishas, this place rides in like a knight in shining armour.
Location: Walk down towards Tajine, and take a left into the lane immediately after La Boca on your left side, to reach Italia Mia.
Sushi Lounge, Education City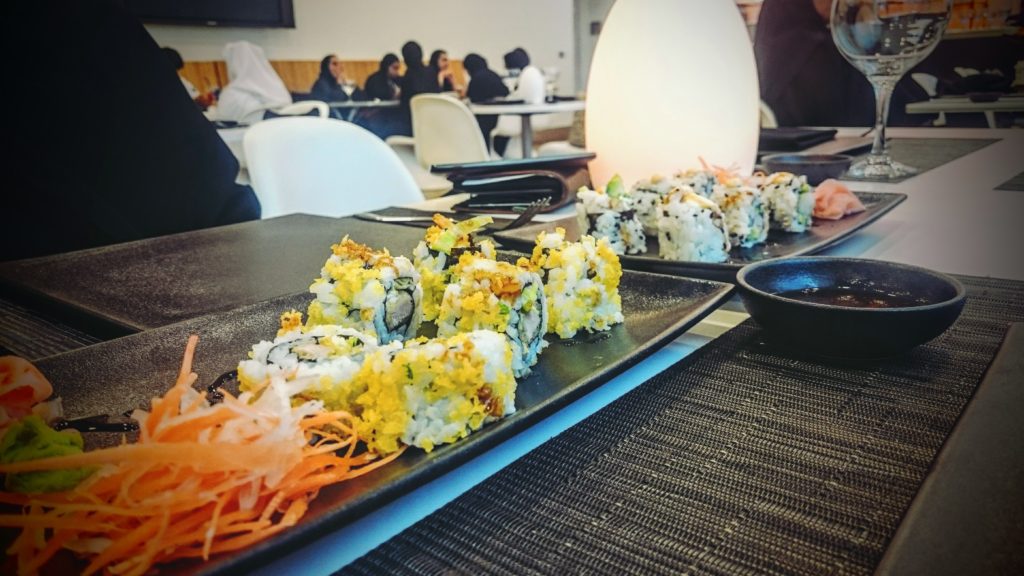 Again, this one isn't listed on Zomato, so you are welcome. Don't expect authentic sushi obviously, this little restaurant is located in the Student Centre at HBKU inside Education City and serves some great mocktails, California rolls, tempura rolls, maki rolls and a couple of other main courses.
They aren't exactly cheap, but in comparison, they are more reasonably priced – QR 36 for 6 pieces. Not bad! Definitely ranks in the hidden gems in Doha category.
We have also taken some shots of the menu, in case you were interested 🙂
Location: Near the food court at Student Centre inside HBKU, Education City, Qatar Foundation
Rabia BBQ
If you are in the mood for some Oriental food, and want to try something new, possibly a place that most people haven't tried yet, you can either visit Rabia BBQ, or check out our post on best shawarma places in Doha. They make good shawarma, and the taste is so, so similar to Mashawi Al Arabi's chicken shawarma, but a bit lighter in terms of flavour, and with lots more chicken. They do have other BBQ items as well, so let us know if you end up trying anything else from here. This place was recommended by MommyDil, and we totally think it's one of the hidden gems in Doha.
Location: They are located a few blocks down from Mashawi Al Arabi, if you are driving towards the highway on Al Nasr. It's a small shop, right after Family Food Centre.
Popeye Pizza
A dingy-ish looking joint in Musheireb, but they make divine pizzas. One winter evening, we were home, we were hungry and wanted to consume calories in any form. A little bit of Zomato-ing led to the discovery of this joint. We ordered. 20  minutes later, yes 20 minutes, there was piping hot chicken pizza at our doorstep and costed only QR 37 for a large pizza! WHAT? We had zero expectations till the first bite. Perfectly cheesy, shredded chicken on a bed of the most amazing marinara sauce – BEST PIZZA EVER. We officially choose this over all other chains! This is the hidden gem of hidden gems.
Location: Just after Vodafone centre in Musheireb.







by