It's getting hot in here! Café #999 Review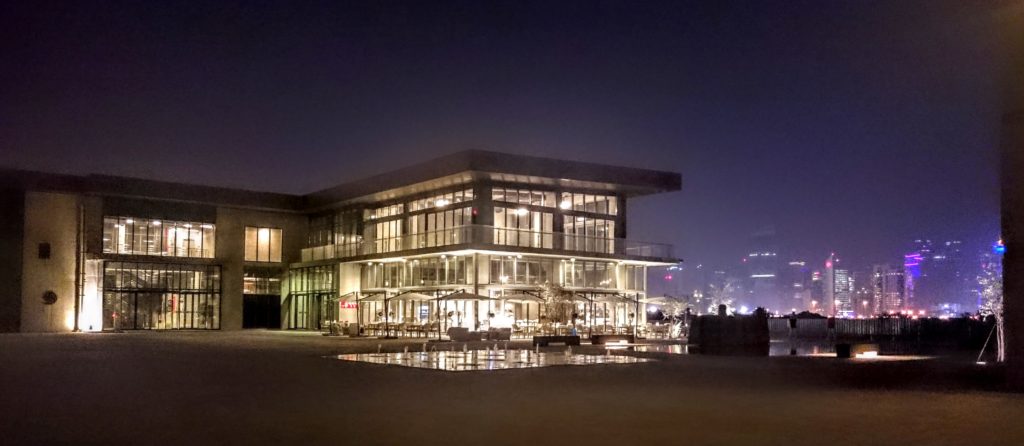 My visit to the newly opened Café #999 and food truck at Doha Fire Station is definitely going to be the highlight of my week.
Lets keep the fact that the humidity was 90% aside. I am super pleased with the new Café #999 and food truck located at the Doha Fire Station, which used to be the Qatar Civil Defense headquarters a few months ago. Doha is never going to have enough of these stand-alone cafes and in my opinion, this entire venue is a great concept in Doha's not-so-dynamic café scene.
If you've lived in Doha long enough, you will know the civil defense roundabout very well and that's exactly where this is. The actual civil defense headquarters has been converted into an art exhibition and on walking a couple of steps, you'll find a food truck to your right and a café to your left.
The food truck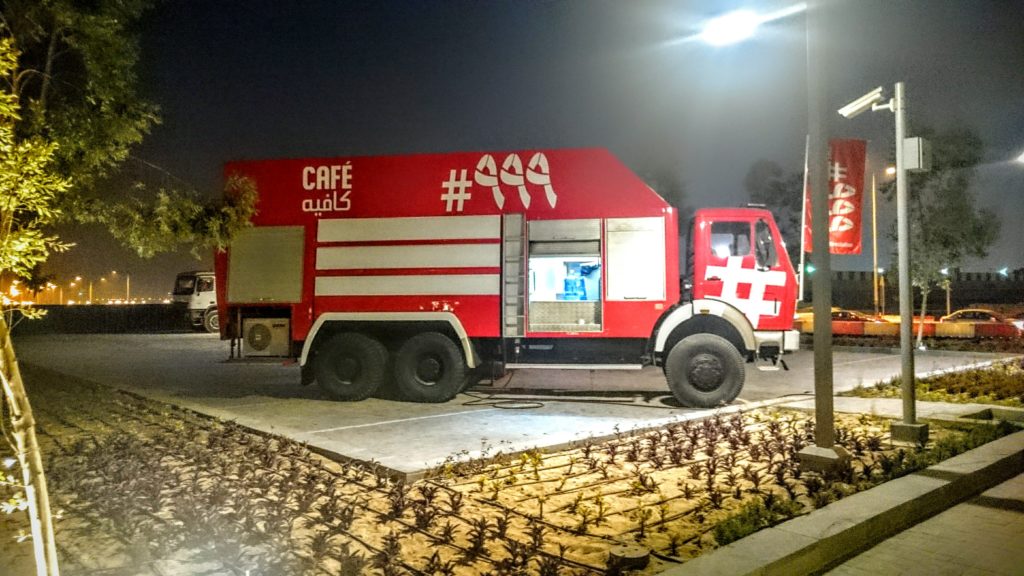 They have converted an actual fire truck into a food truck – I love this already. It has all the ladders and doors of the fire truck and is pretty interesting to look at from close. There is a menu displayed and a makeshift staircase that leads up to the place where you can order food.
The variety is decent – not too many options – but lets keep in mind it's a food truck. It's also not a great idea in the hot summer, because you have to order your food and actually wait at the counter in the heat while they prepare it fresh. Well, they do prepare everything fresh right in front of you, but it's going to be quite a wait.
Also, the food truck is forever alone. There isn't a single chair or table in sight, or no place to rest your rear, so you can't really hang around and admire the truck. You'll also have melted quite a bit by the time you get your food so it's best to rush out of there back to your car.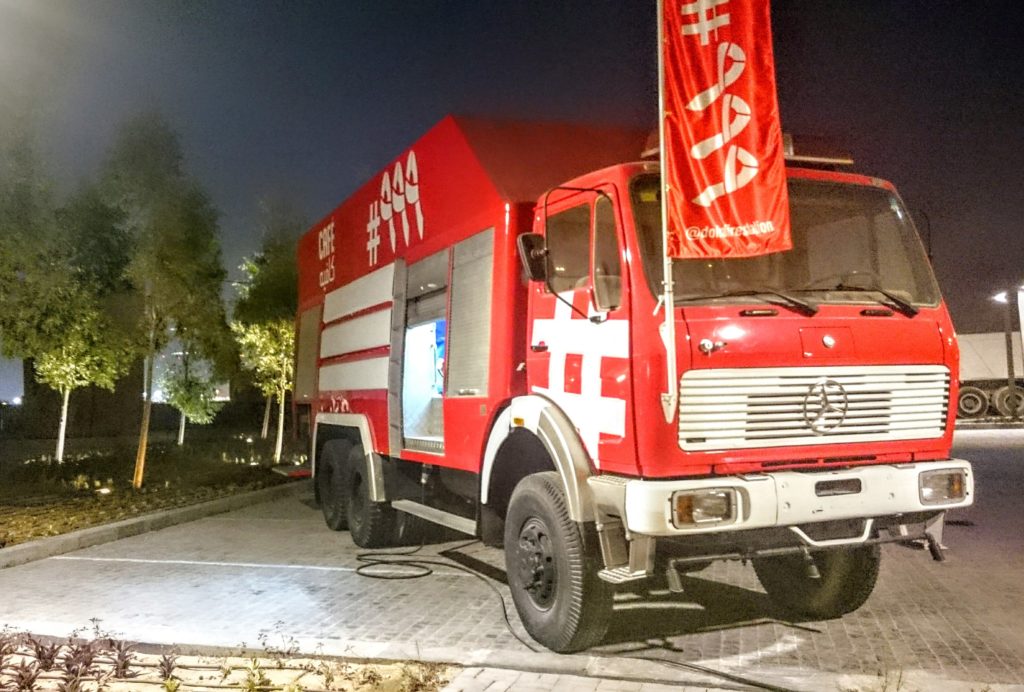 In case you're feeling adventurous, it might be a good place to search for Pokémon. And if you do find any, leave a comment 🙂
The good news is you can order from the food truck and head over to the café to eat there. This set up makes me very happy because the food truck menu is actually less expensive than the café itself, in general and specifically for the same food that you get inside. Some dishes were QR 10 more expensive inside.
Coming to the main part, the menu is very unique with a variation of things to try that you won't normally find in other restaurants. The food tastes fantastic too. We absolutely loved it. We ordered the Oriental Chicken Panini for QR 28. The Panini was a great size – very filling. Slightly pricey for a food truck, but then again it seems like that whole concept is lost here. Food trucks are more of a luxury offering! You'll know what I'm talking about if you've tried out the Burgerri Food Truck. I am actually looking forward to trying out the nutrition shots in the Café soon.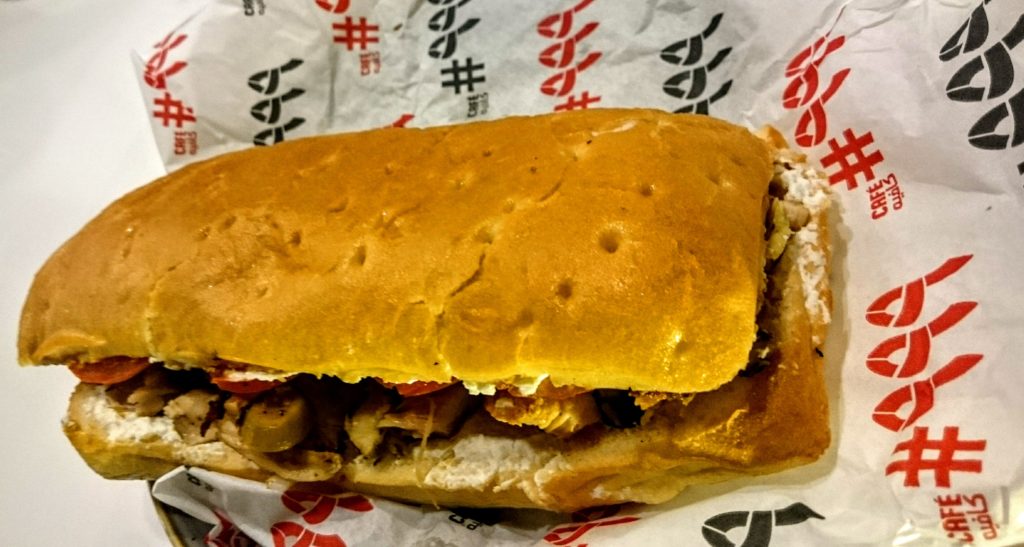 The fire truck is quite old and in working condition and if this excites you, they actually might roll it out for the roads in the future too!
The Café
A minute away from the food truck, you'll see a beautifully lit up building right behind a small spouting fountain. This venue was apparently a majlis/prayer area during the old civil defense days and they have actually maintained a lot of the original décor, which adds to the uniqueness.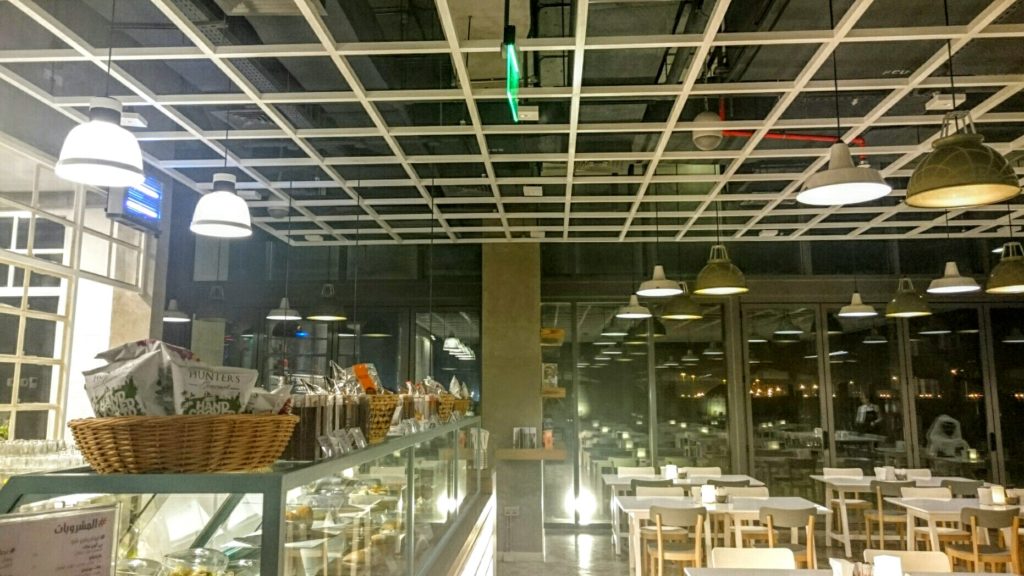 The interior of the café is pretty swanky, beautifully lit and yet has this old-ish charm. The café has an outdoor seating area too, but of course the summer won't allow it! The suspended ceiling gives the café a very industrial yet trendy feel. The area is large, with lots of seating, so it's probably one of those places you'll always find a table if full. They have changed the flooring but retained the wall paints and columns from the old venue, adding square bookshelves with books for sale. Yes, unfortunately they are not for reading.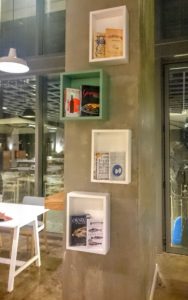 The seating is actually not the best. It would have been perfect if they had couches inside, where you could just lounge and read a book while sipping on your coffee. The hard wooden chairs ensure you don't stick around for too long. They do have couches outside, and I hope they read this post and bring them in J
The food is really good. Everything we tried was unique and super tasty. I loved the shrimp tempura wrap. It came with raw sprouts, mango and Japanese mayo and was so, so good. I absolutely relished the raw sprouts addition. Even the fries were good.
The place is definitely on the pricier side, which is a little disappointing. The wrap cost QR 38 – a bit steep for a quick weekday bite. Add to that a 20 riyal cappuccino. The coffee was good, the quantity too, but really – QR 20 for a regular café?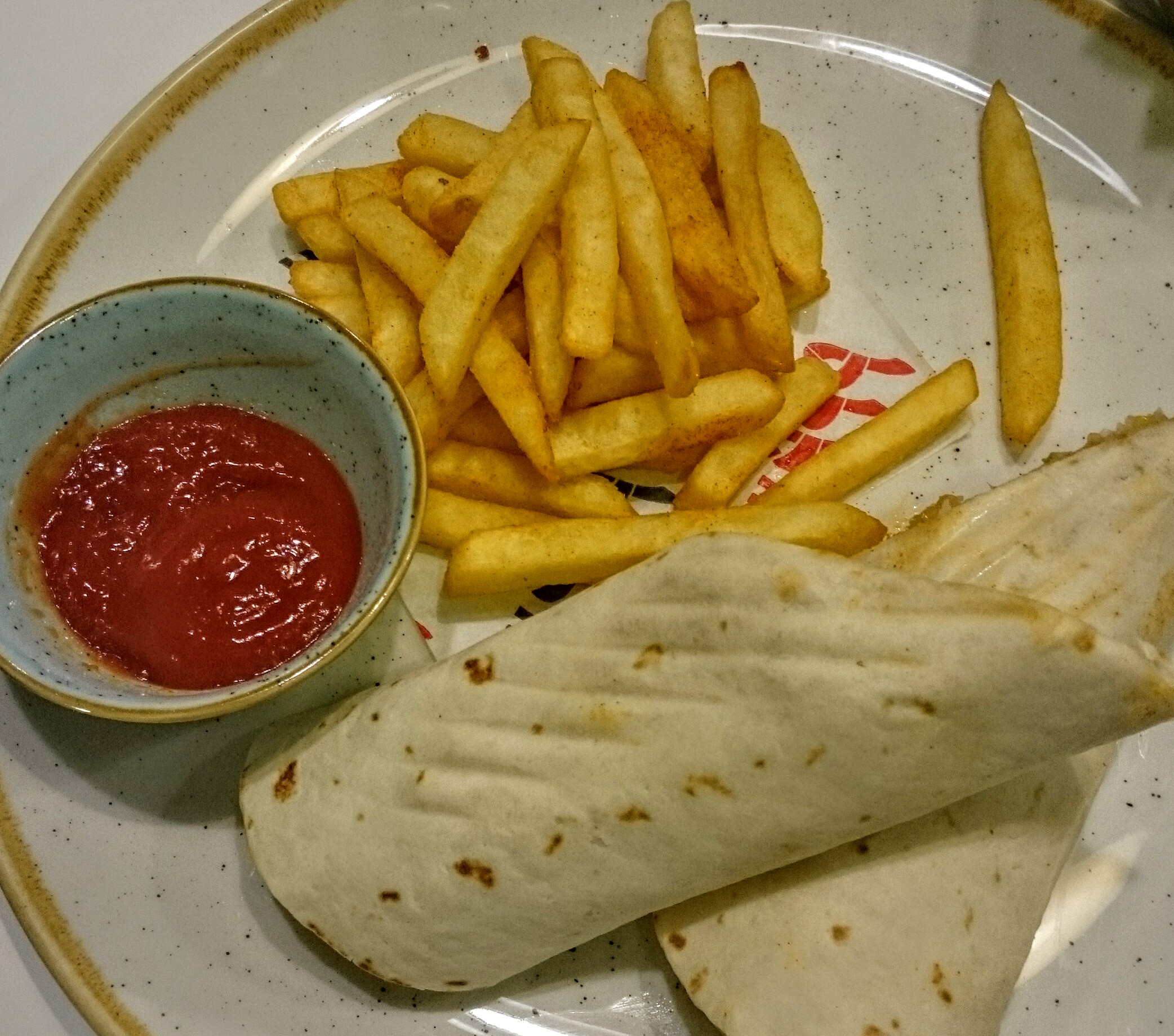 The fresh fruits with cinnamon ice cream were really good too. They had a great selection of fruits and contrary to what you might think, the cinnamon ice cream was really nice.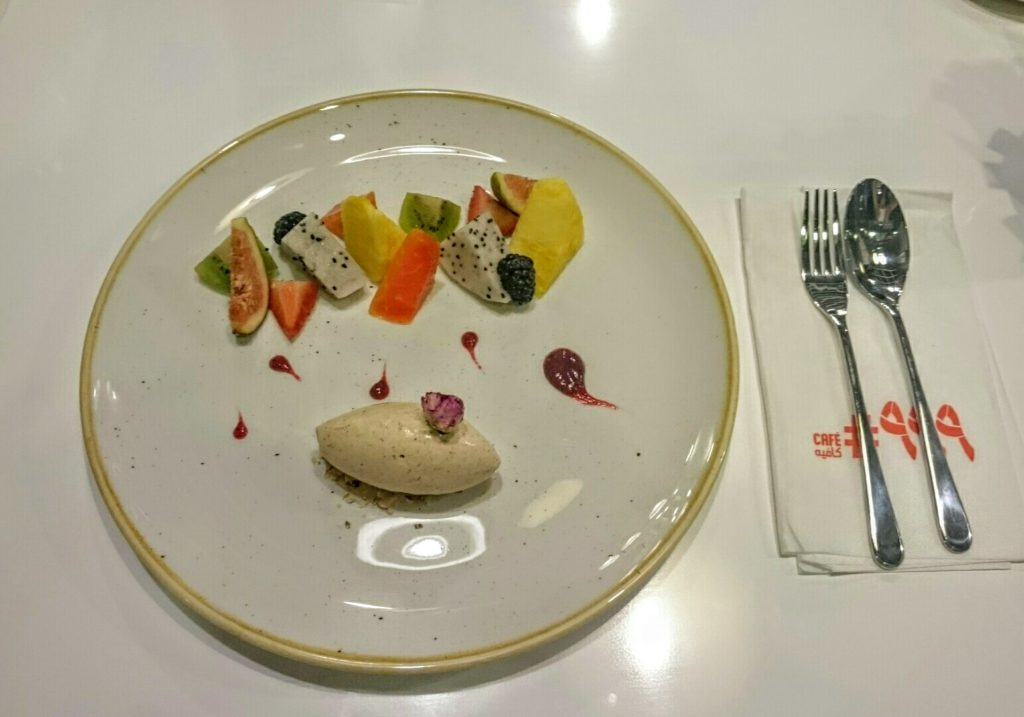 Service? Full points for courtesy. The staff were so welcoming and friendly and even re-heated my coffee 😀
In other exciting news – they're opening a Cinema there very soon and I honestly can't wait. I love the idea of not having to go to a mall to watch a movie! They're also working on a library right next to the cafe, which should open soon.
Verdict
It's a brand new place, and yes it might be slightly pricey, and very, very hot and humid, but a new food truck in town and a chance to see the insides of the old civil defense headquarters is definitely something you shouldn't miss out on. This place is probably going to be my number one spot in winters for its sheer exclusivity, seclusion from the main, noisy, polluted areas and of course, a fire truck turned food truck!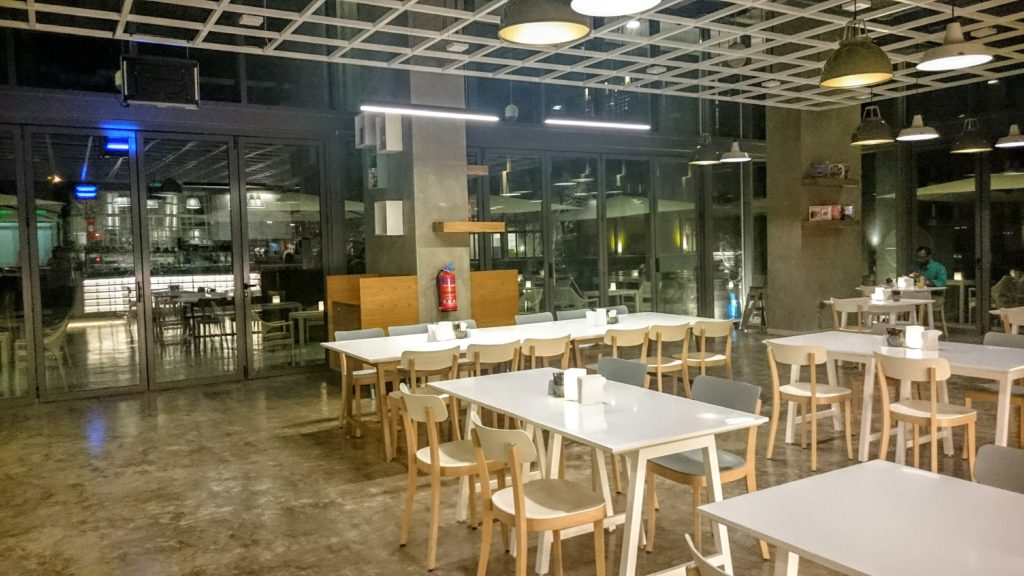 Cafe #999 is open daily from 8am to 11pm and 2pm to 11pm on Fridays. It is located inside the old Civil Defense HQ. Due to construction works, you can't get in from the main road if you're driving from the Corniche side, you'll have to take a right at the roundabout and then enter the venue.
Food – 9/10
Ambiance – 7/10
Service – 9/10
Value for money – 7/10
QSG* Ranking – 8/10
*The QSG ranking rates experiences/places/things from 1 (the least important requirement for your survival in Doha) to 10 (the most important).







by