Do you love long drives? Do you love food? If your answer is 'yes' to both of these questions, then read on. And if it was no for either one, then quietly close this browser tab and continue to Facebook. This week, QSG ventured into the unknown on a chilly pre-winter night, driving in a begrudgingly small car completely unfit for offroading, and skillfully using Google Maps to discover what humble D-Town residents possibly haven't even heard of. If you're looking for a lesser dramatic version of the above, we recently drove down roughly 50 kms outside Doha to Umm Al Hawaya, in search of Baladna Farm. Advance warning – the quality of pictures are disappointing, there was no light, but more importantly, we know nothing about photography!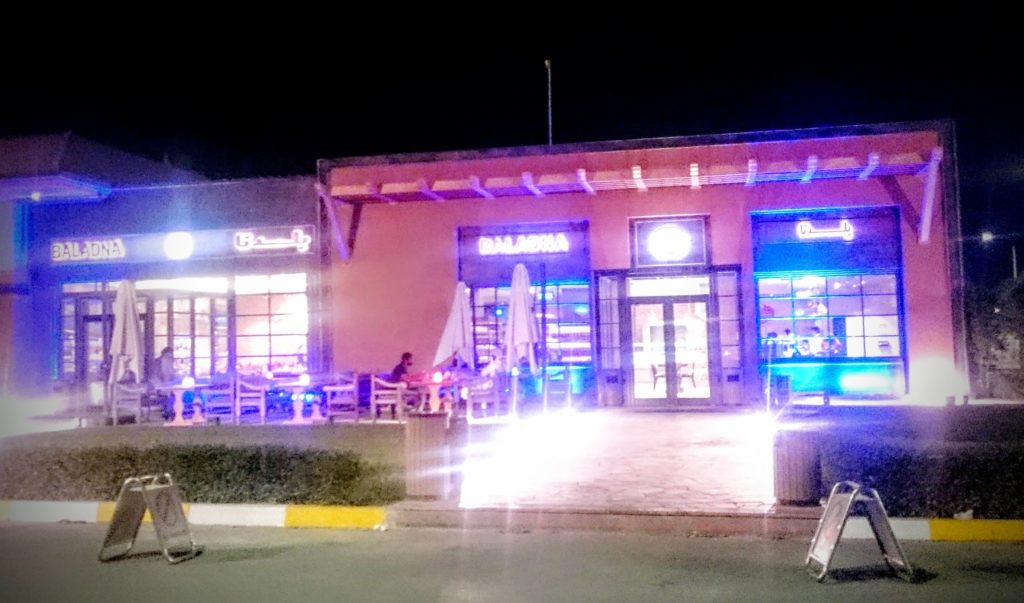 Baladna Farm is located north of Qatar and believe it or not, it is an actual farm. But that is not what got us all excited. The cute little restaurant in the Baladna Farm quarters did.
About Baladna Farm
We are talking about a 100% Qatari farm, that has the largest available sheep livestock available in the Middle East. They have specialists from around the world to achieve the highest standards of quality, food safety and most importantly, animal welfare.
Fun fact – Baladna Farm is a pioneer in the GCC using artificial insemination breeding methods to maximize nutrition contents available in meat and milk products.
So you know that whatever you are consuming, meat or dairy, is of the highest possible quality and the freshest of course.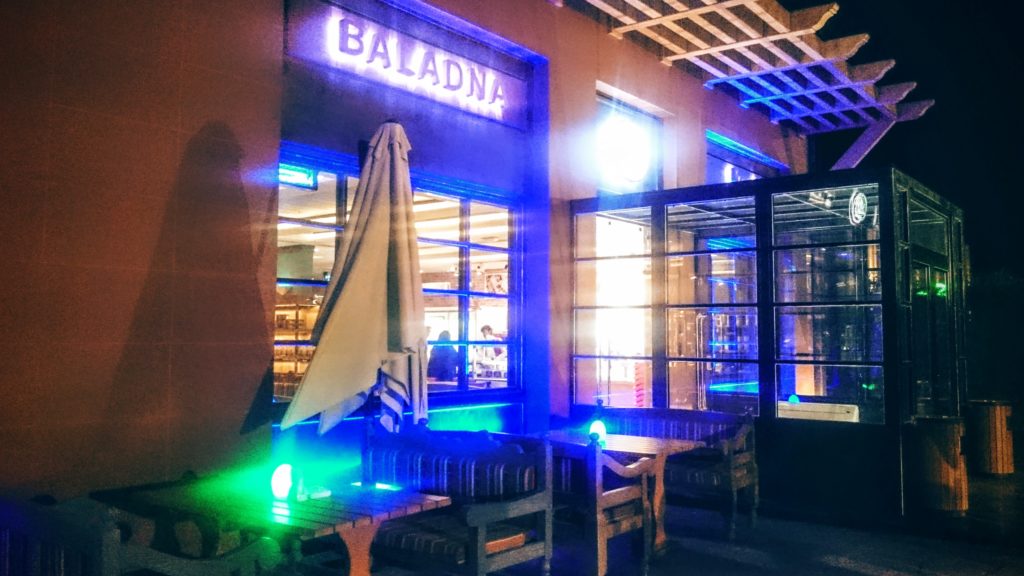 After about roughly an hour's drive, we arrived at the farm and entered in through gate number 2. It's actually not at all what you'd expect. No smelly smell, lush green landscaping, a little fountain to the right, and a really gorgeous looking, well lit restaurant on your left.
Baladna Farm is fairly easy to locate, Google Maps takes you right to it (almost), and the roads also have big markers that you cant miss. There is also sufficient parking, right in front of the restaurant.
We parked, and made our way to the restaurant.
Baladna Farm Restaurant
This has got to be the most perfect time to visit this place, the air was so fresh and relaxing. It wasn't too cold. The restaurant has a really beautiful outdoor seating, traditional style benches with comfy cushions, complete with different coloured table lamps.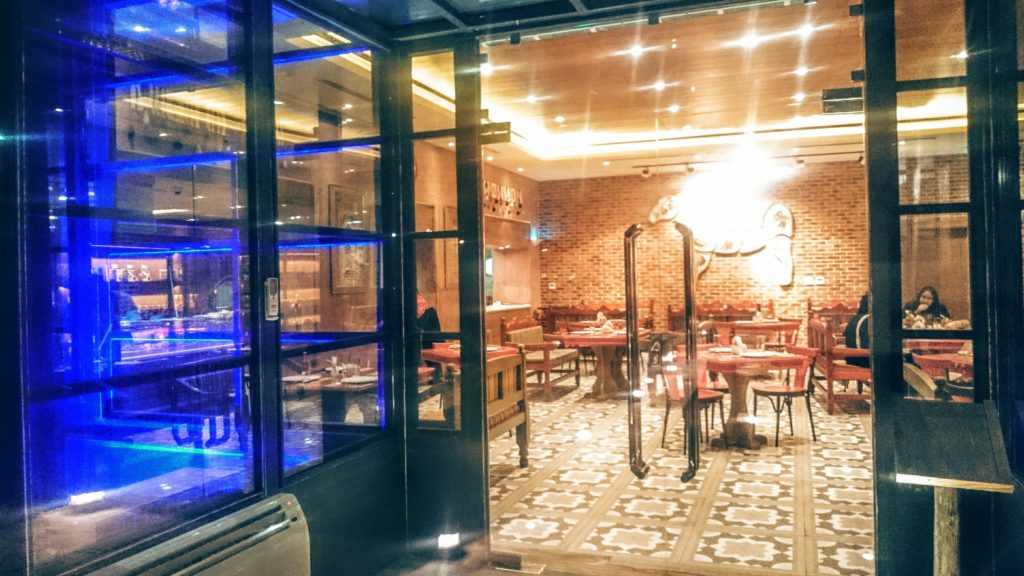 Unfortunately, it was too dark by the time we arrived, so we could go take a look at the actual farm. If sheep and goats are your thing, you definitely must go there when there is light, and marvel at the sheer numbers of livestock.
After setting down, we went in to the restaurant, and were so amazed by what we saw. It's not just a dining area, they have their own line of products, right from well packaged to fresh off the cow, and surprisingly everything was so reasonably priced. They have spices, jams (they had a special rose petal jam – try it), crackers in different flavours, concentrates, pomegranate molasses, blossom and rose water, a variety of cheeses, different types of milk, Ayran (if you have been to Turkey, you'll know what this is), dates, chocolates, pickles, I don't even remember! The range was endless, and everything was so reasonably priced. Everything averaged QR 15-20. If you find something interesting, they let you try or taste it.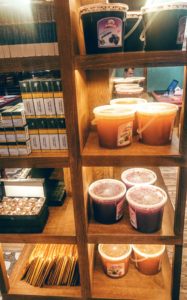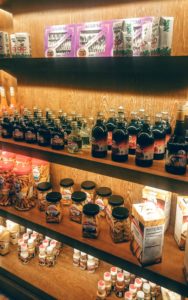 The indoor seating also has a traditional touch as far as the seating goes, some peculiar but interesting pieces of art adorn the walls, and shelves of products for sale separate tables from one another, in a very non intrusive and spacious way.
Food
Okay, time for the real deal. The menu definitely looked expensive, mostly Arabic and Syrian specialities. We didn't want to have a full meal, so we "tried" to order light. The Crispy Meat Pie (QR 50) looked interesting, as did the Lamb Shawarma with Marqooq, cooked on charcoal. This was definitely enough for a light meal, but then we saw the Kashkawal, and got to know its made super fresh, from their own dairy produce. That's it. One Kashkawal with Muhamarra please!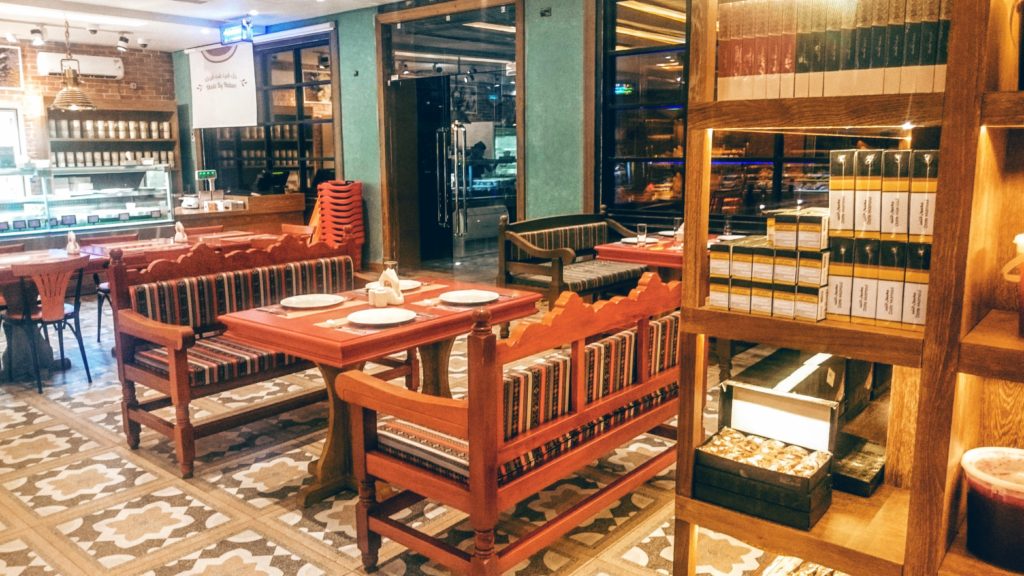 The Crispy Meat Pie, is most definitely over priced but, it was the best meat fatayer thingie we have ever tasted. The meat was fantastically cooked, juices soaked into the bread, yet the bread remains crispy. We kept aah-ing and ooh-ing long after the pies were over. One plate came with three pieces.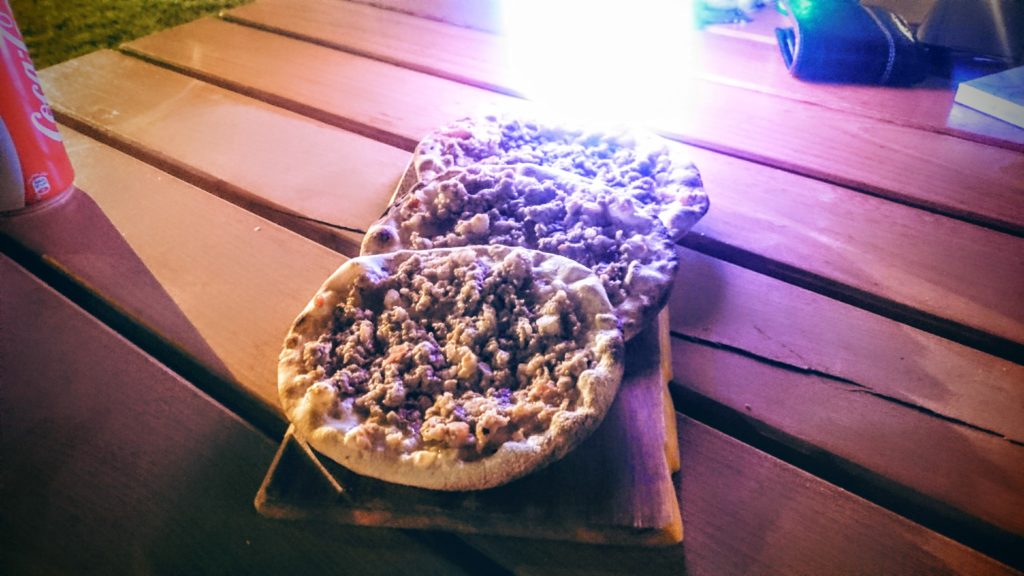 The Kashkawal with Muhamarra (QR 20) was also really good – lots of flavour and very mildly spicy, if nothing else, we definitely recommend you order this one!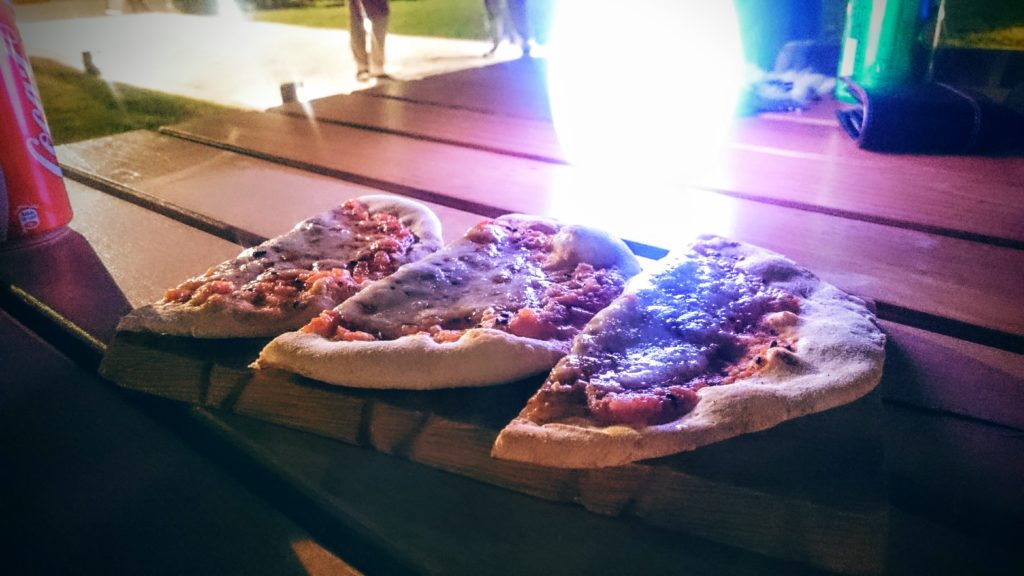 The Lamb Shawarma (QR 25) of course took slightly longer, since it was cooked on charcoal. Technically, it wasn't a shawarma, it came rolled up in three cigarette sized bites. The meat was of course, super succulent, the bread was tossed in butter, and while there were no sauces, it still was delicious.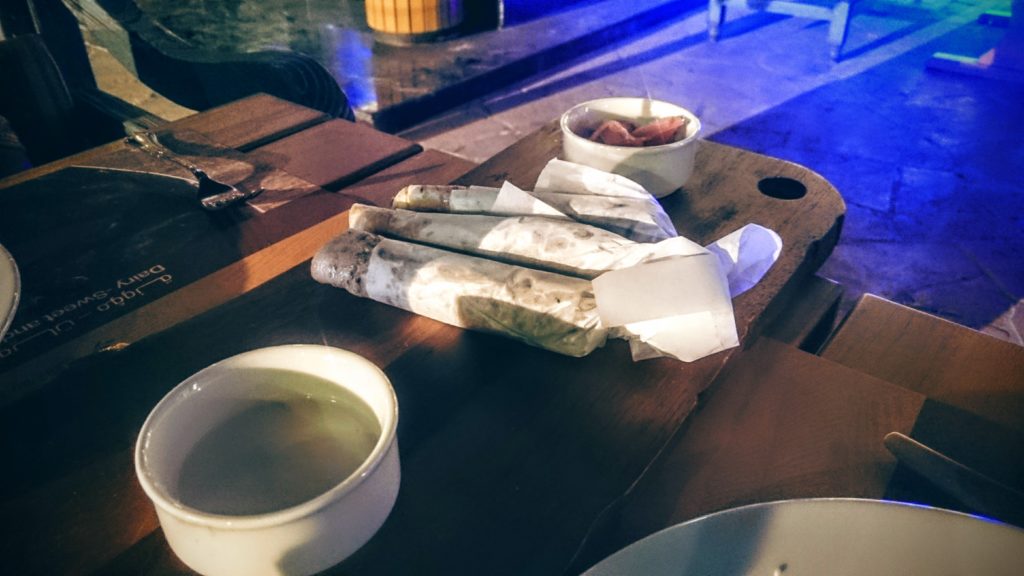 The menu had a variety of dishes from Saj and Manaqeesh to desserts. We paid a total of QR 101, and it was definitely pricey because it's not really a fine dining place or anything! But the money was totally worth the entire experience.
Overall experience
If you are the kind of person who loves going on long drives, but finds them completely pointless in Qatar, because there really is no exciting destination to go to, or make pit stops at exciting places on the highways, we totally recommend driving to Baladna Farm. Bear in mind that we are in Qatar, and this definitely counts as an experience. You'd have to be a roadie, to really appreciate the destination after driving for an hour!
In fact, we suggest you head over there this weekend, and make a day of it. See cute animals, walk around the park area, eat some good food and enjoy the limited-time fabulous weather! It is family friendly and the kids can actually play or run around on the grass, while you sit at your table and enjoy your food. The place is quiet, relaxed, not too much noise and/or screaming kids (unless you bring yours :D) – at least on weekdays! We heard they are constructing a huge park for children, and a swimming pool for families.
The service is great, they are super fast, so if you want to chill out a little bit, make sure you tell them to take their time with your order!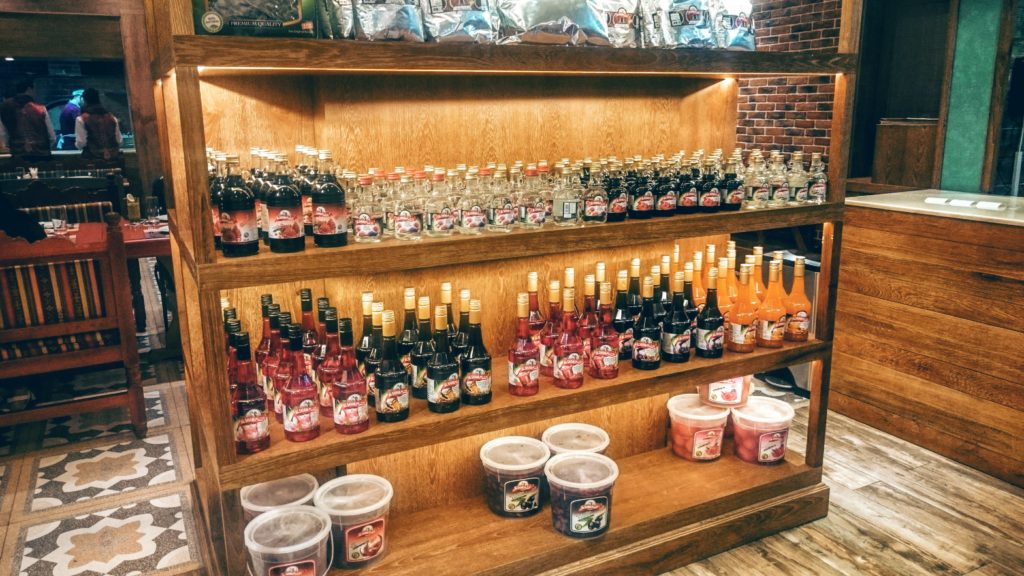 Also, do not leave here without buying something – We are currently feasting on their pizza flavoured oat crackers as we conclude this post 🙂
Timings
8 am – 8 pm on weekdays
8am – 10pm on weekends
Location
Click here for the GPS coordinates. Drive straight on Shamaal Road, till you reach Exit 44. Take exit 44, and keep driving towards Umm Hawaya. As you go straight down the road, you'll see a big board that says Baladna Farm, take that right and enter the farm from Gate 2.
PS – This is NOT a sponsored post. We paid for all our meals, the items purchased and the fuel to get there.
We'd love to hear about your experience there.







by