Roadtrip through Exotic Jordan
If you've lived in the Middle East for a while now, either you've already been to Jordan, or you've really been wanting to go here. Lucky for you, we affirm that Jordan is definitely worth a visit for its raw beauty, gorgeous beaches, nightlife and lengthy but fantastically scenic roadtrips.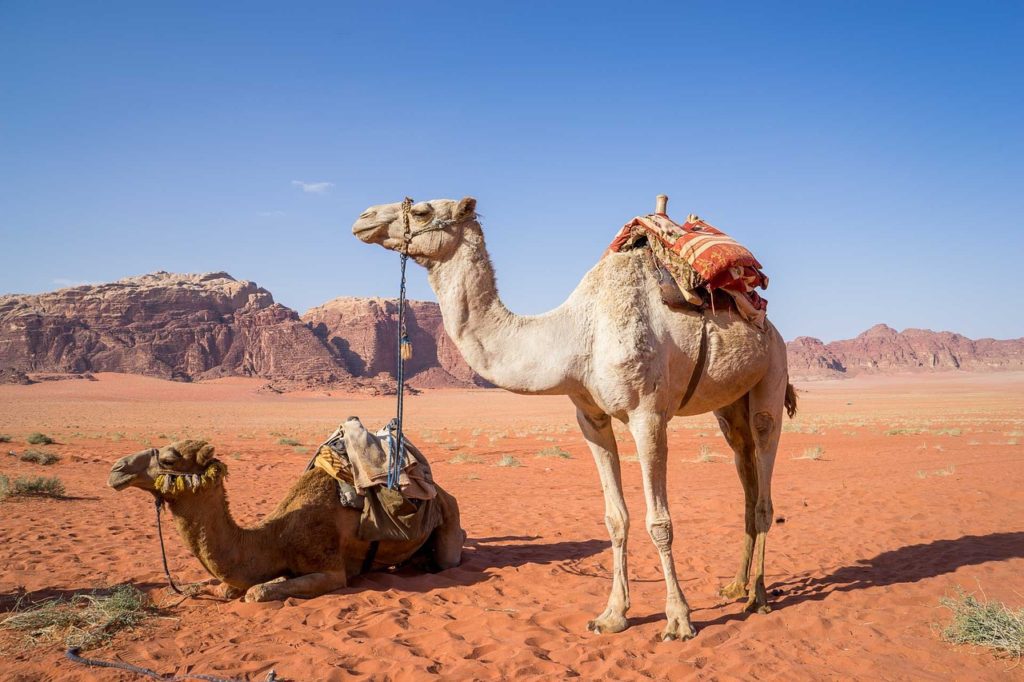 Jordan is as safe as it can get, irrespective of whether you speak Arabic or not. So even if you're a woman, or two, travelling alone, you should have absolutely no issues getting around, being treated well, and more importantly, being safe.
The most attractive thing about Jordan is the touristic diversity that one gets to experience. From diving in the red sea and floating in the dead sea to shopping and camping, Jordan has it all. And if you have a good five days to spend here, this is going to be a fantastic experience.
Did we mention that Jordan has visa on arrival? We should have said this in the first place, because if you're not from one of those "powerful passport" countries, this is going to matter in a big way! The tickets are usually reasonably priced and this is a great last minute destination. And no, you do not need to know Arabic.
Two fearless women, set out to explore the incredible and unknown Jordan. Warning – Super long post.
Day 1 in Jordan – Aqaba
Part 1
We landed at Queen Alia international Airport in the capital Amman. We rented a car online, before the trip started, and the rental company representative met us at the airport, to take us to the office from where we could pick up our car.
Car troubles
On reaching the rental company, which was near the airport, we realised the car we wanted wasn't available and instead of upgrading us, the guy downgraded us to a really crappy, ancient car, which luckily still had automatic transmission. We were absolutely sure the car would breakdown at some point, but surprisingly the car was pretty badass, and lasted through all our crazy car moments, bad roads, sudden surprises and everything else that a roadtrip in Jordan entails.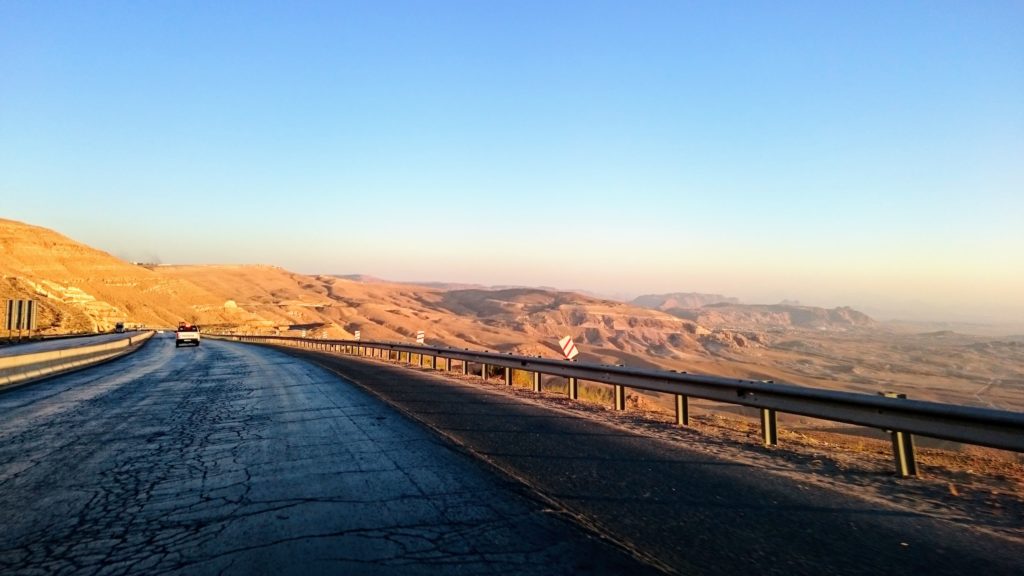 Finally, we set out to our first stop – Aqaba. We chose the Desert Highway, after reading several reviews and recommendations, despite being less scenic. The reason we did this is because this is a faster, straighter road, and if you have just landed in Jordan, you'll probably want to get to your hotel or your final destination as fast as possible to catch some rest. The journey took us a few hours – around 6 – but that's also because we made several stops for lunch, coffee, pictures, and other random things.
Entering Aqaba was like a dream – you can see these gorgeous lights in the distance. The lights are actually from Eilat.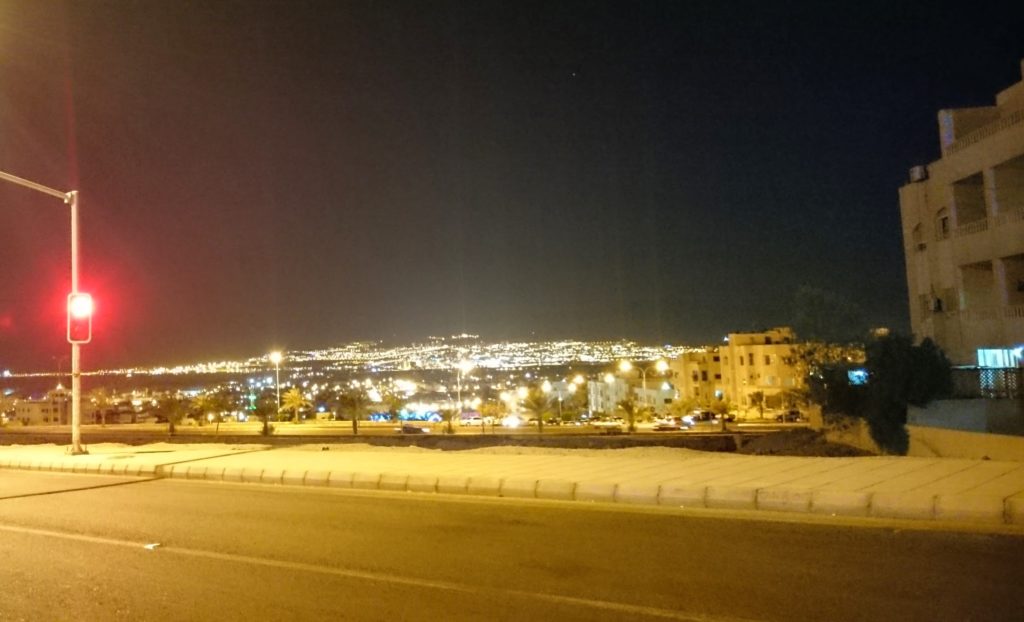 Coming from the Gulf, it's honestly a weird feeling because you're not sure if it's okay to look, and more than that, if it's okay to think this is beautiful.
We reached our hotel, in the city centre of Aqaba. It was a regular-priced hotel – the location was great, and the hotel had its own parking too. The room was rather tiny, but it didn't matter because we were literally just going to sleep there. We unpacked, showered, trip advisor-ed and headed out to the Marina, which is apparently a popular night spot.
Tala Bay, or the marina, definitely has some charm, its pretty and quiet, but you might be slightly disappointed if you compare this to the Pearl-Qatar or even Amwaj Islands in Bahrain. Luckily, it was easy for us to get here because we were driving, but we honestly didn't see any public transport around. So while we might have been able to get a taxi to the Marina, we are not really sure how we could have gotten back. The streets in Aqaba at night are dead, you don't see people walking around, you see lights from Eilat, streetlights, a few signals, and if you drive further on, a few restaurants and beach clubs that have lit signboards.
We parked, walked in along the Marina, and finally decided on Suzana, a really cute outdoor place, after trip-advisoring the hell out of it. We ate good food, drank good wine (not really, but it totally fits into the sentence), and made merry.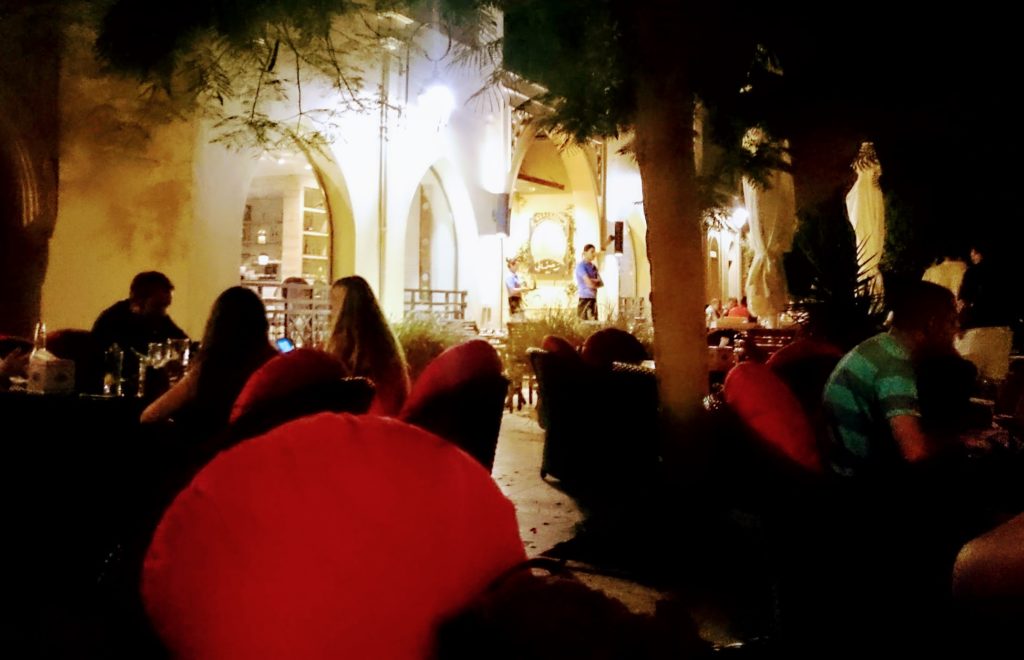 A short drive back, and luckily enough, a hot shower later, we called it a day and hit the bed! You have been kind, Jordan.
Part 2
After a quick, and free, breakfast at the hotel, we drove down to Sun and Sand Beach Club, which is a beautiful beach club on the banks of the Red Sea. In case you didn't already know, the Red Sea is one of the world's best diving destinations. Chicken mode on, we picked snorkelling over diving but it was just too windy that particular day, and they refused to take us snorkelling. We couldn't possibly pass up a chance to explore Red Sea, so against our (and the diving instructors') better judgement, we said a big, fearful YES to diving.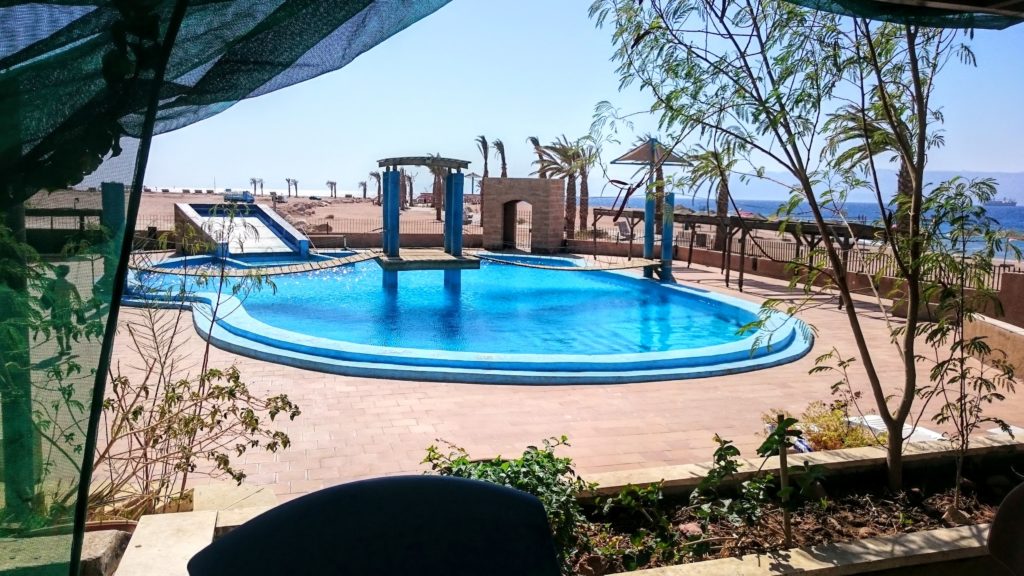 A brief training, fitting, and transporting heavy oxygen tanks across the shore later, we were in the Red Sea, slowly descending to the bottom to witness the most beautiful thing we have ever seen. The bright colours of the marine life, the wiggly movements of tiny yet fast fish, and feeling of being underwater, was just so overwhelming. It was our first ever diving experience, and what a way to start!
We spent roughly 30 minutes underwater, and spent the rest of the afternoon swimming in the club pool, and having decent lunch, while checking out the awesome view. Right in front of us, we could see Egypt on the left, West Bank on the right, and we were sitting in Jordan!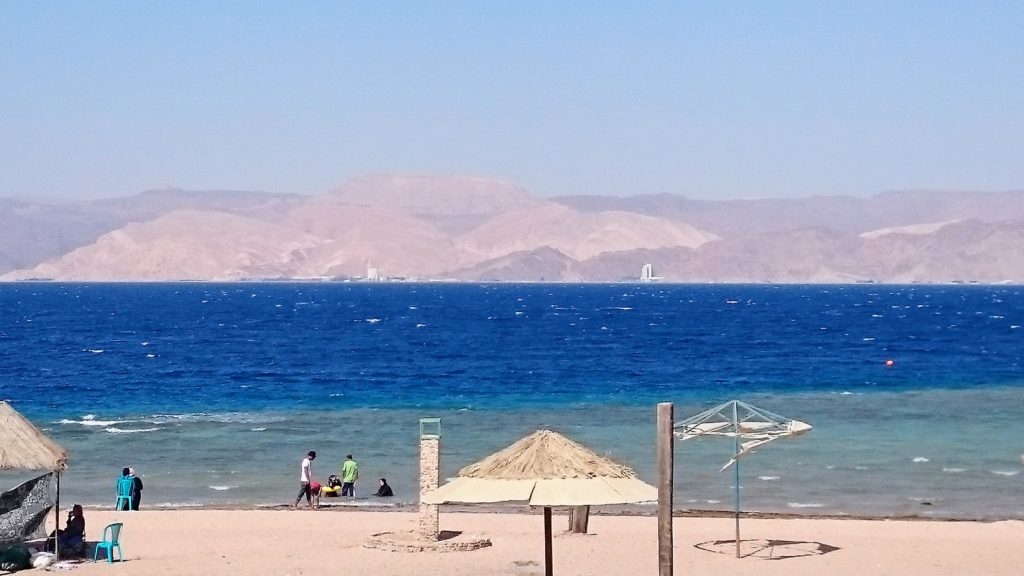 We showered, packed up, and hit the road again for our drive to Wadi Rum.
Day 2 in Jordan – Wadi Rum
The drive to Wadi Rum from Aqaba is roughly an hour, on very good roads. We booked a luxury camp stay for the night which included dinner and breakfast, and our own luxury tent, tucked away under the rocks somewhere in the middle of Wadi Rum.
Wadi Rum, also known as the Valley of the Moon, is massive – around 74,000 hectares of sandstone and granite rocks, in beautiful shades of red. The most exciting thing about this is when the sun sets, the red rocks look like they are glowing. Make sure you get to watch this because it is like nothing you have ever seen.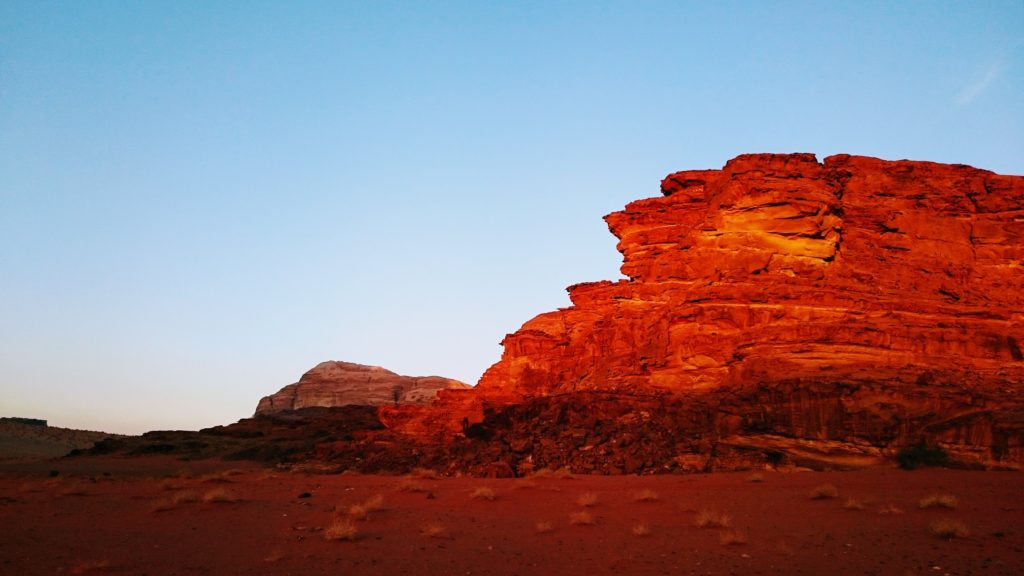 We reached an area where we parked our car, offloaded our luggage on to the four wheel drive that was going to take us far into the desert to our luxury camp. It is safe to leave your car here, the locals are friendly. The 4WD is also pretty high to climb into, so if you have any injuries you might have some trouble getting in, but it's totally worth it. Make sure you have a scarf to cover your head because the winds are pretty strong.
We drove towards our camp site and stopped by the sunset point on the way, which was marvellous. It is here that we got to see beautiful, glowing red rocks all over. We took about twenty minutes to reach our camp, and walked through the red sand to the waiting area.
The camp site was divine. Beautiful tents located metres away from each other, alongside a lit pathway, with a common bathroom at the end. There was a separate dining area, where we had the buffet, freshly prepared, followed by a BBQ, where we got to mingle with some of the locals and the bedouins. They do have some real interesting stories to tell, definitely don't miss any chance to chat them up.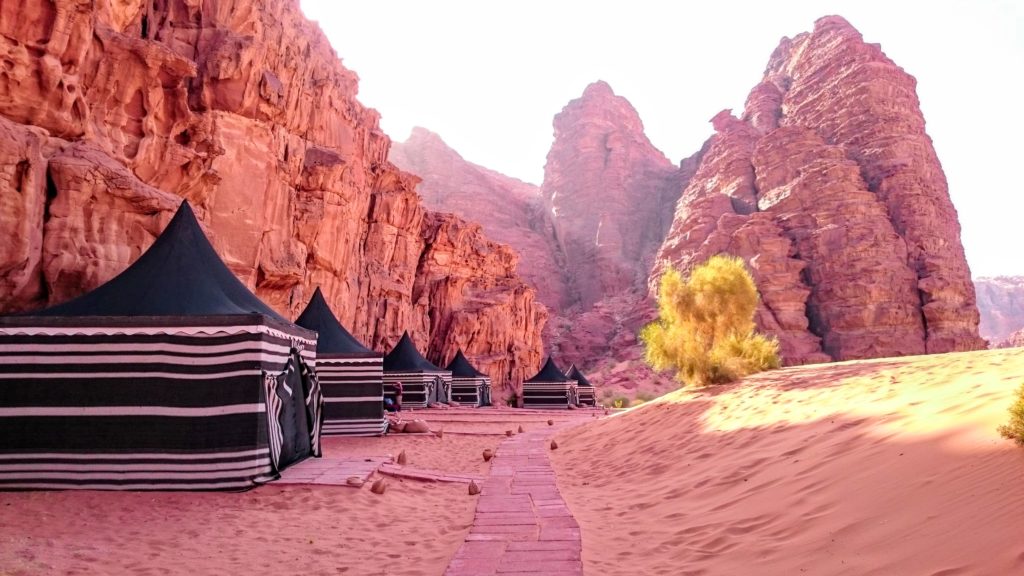 Far away from light pollution, we saw one of the most beautiful skies ever. Filled with stars, pin drop silence, it was truly beautiful. We sat on massive bean bags outside the tent, chatted away, and kept admiring the gorgeous sky. We wish we had planned this better, because we had no idea how isolated it really was. We wished we had a guitar with us, or any sort of entertainment, but there was something strangely satisfying about stripping down back to basics, especially since there was absolutely no mobile network, wifi, or any sort of connection with the outside world.
Best night's sleep ever. The tents had no air-conditioning or anything, but it was perfectly fine because it was pretty chilly outside. We had breakfast the next morning, and our 4WD guy picked us up to go exploring around Wadi Rum. It was pretty windy, so make sure you have something to cover your head, and possibly face too from the dust. The rocks in the morning look completely different and better.
There are several points of interest in Wadi Rum, where you can find interestingly shaped rocks, ancient carvings, springs, and much more.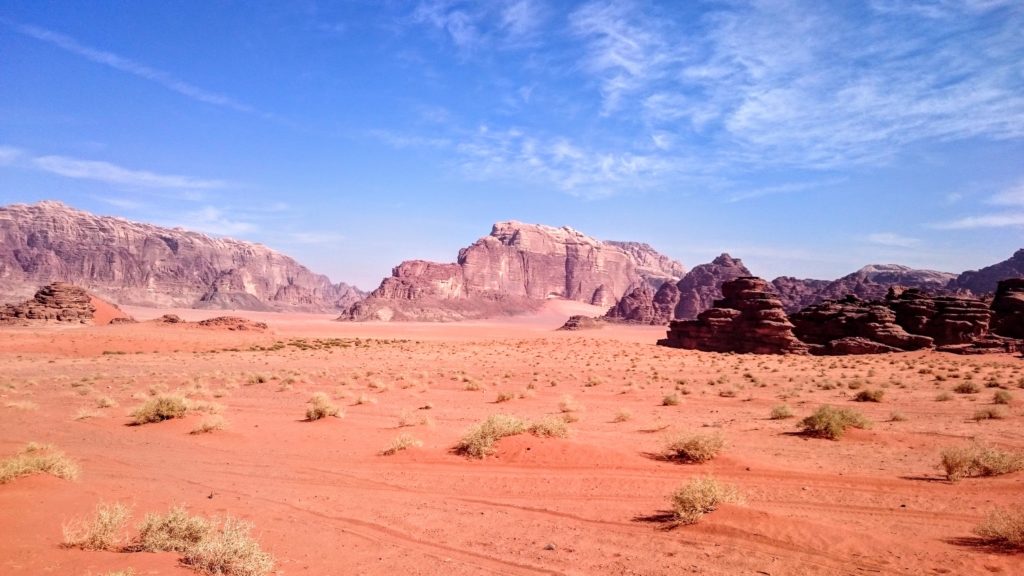 The 4WD dropped us back to the parking area, we put our luggage back into the car and drove off, taking the King's Highway to Petra. The 4WD cost us JOD 100, for the trip the previous day (to see the sunset) and the exploring the next day which lasted for about an hour.
Day 3 in Jordan – Petra
We reached Petra late afternoon, and headed straight to the Caves of course, without wasting any time and before checking in to our hotel. The park closes at around 6 pm, and at 3:30pm we were contemplating whether to enter or not. We did enter at 4, into possibly the most magnificent heritage site we had seen in a while.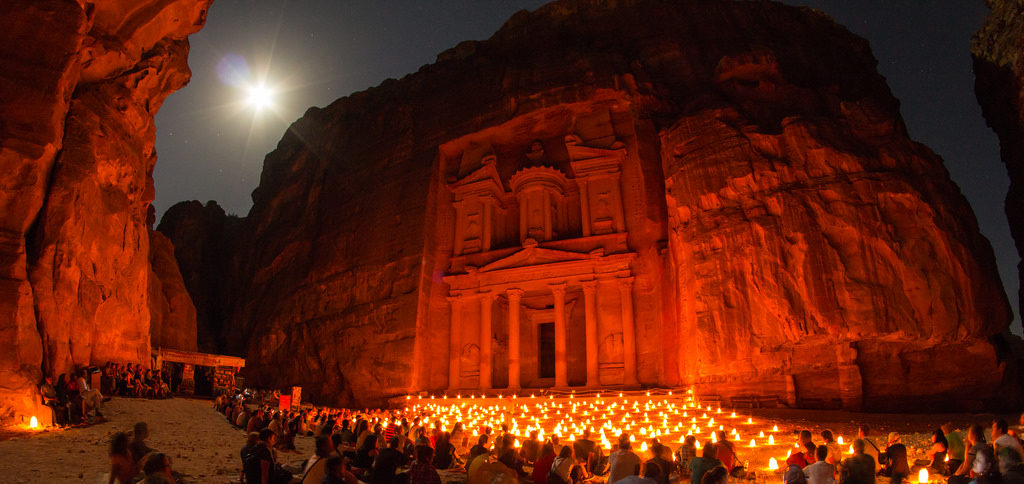 Petra, also known as the Rose City, is a historical and archaeological treasure located in South Jordan. Besides being a UNESCO Heritage Site, it has also been selected in some of the world's top magazines and media outlets as a place to see at least once in your lifetime.
Afternoon would be a good time to enter this place, because once you enter the Siq, you don't really get any direct sunlight hitting you, if that's a concern for you. The entire walk is around 16 kilometres, both ways, with the half point being the Treasury.
Here are a couple of sites inside Petra that you must visit:
Bab Al Siq
The Dam
The Siq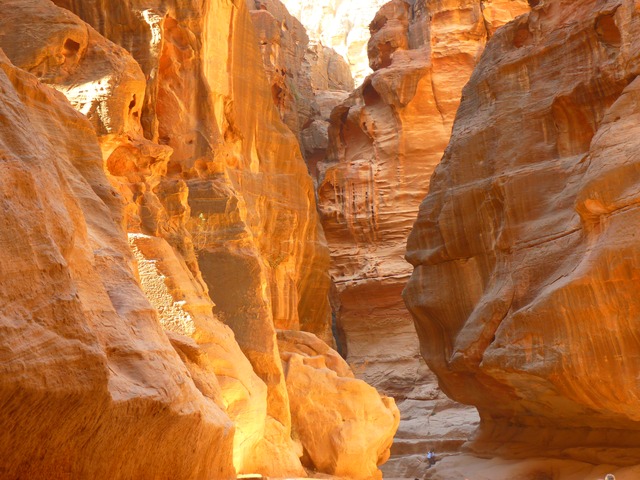 The Treasury
The Street of Facades
The Tombs – Silk, Corinthian and Palace Tomb
High Palace of Sacrifice
The Monastery
Besides the above, there are of course a few more sites you can check out, but believe us, you will be pretty exhausted by the time you're done with these.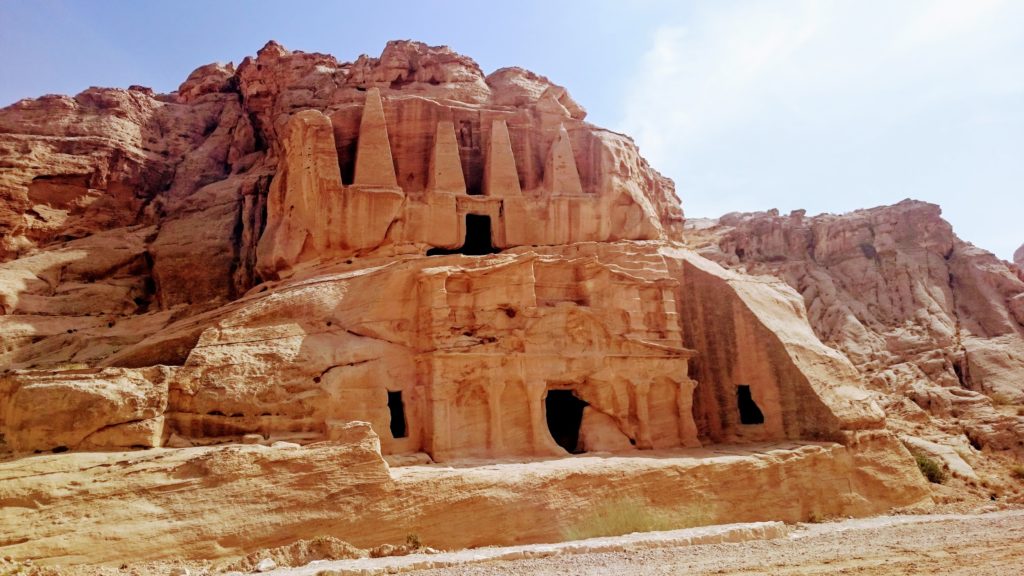 Petra does have transport options inside, like carriages pulled by horses, and sitting on donkeys, which we don't recommend of course. However, for roughly 10-15 JOD, which is actually expensive, you will find Jordanian men willing you let you ride donkeys and horses to reach your destination.
You will also find a lot of annoying tour guides, who will pester you unwaveringly, but we ignored all of them and carried on. However, luckily, we met an off-duty tour guide, who was just chilling around, and was more than happy to give us insights into the histories and tell us the stories behind these magnificent cut rocks.
We absolutely loved walking through the Siq, the structures are so majestic, and the photography opportunities are unlimited. Make sure you have a camera with you, and lots of water of course.
You can chill out for a bit, when you reach the Treasury, which was actually featured in the Indiana Jones movie by the way. This is the half point, so if you think you can't make it further, now would be a good time to turn back. If you look friendly enough, some guys will happily tie a scarf on your head in the Jordan Bedouin style.
After this, we grabbed a bite to eat at the waiting centre, and then headed to check in to the hotel. It was night time already, so we showered, drove around town for a bit, and then came back to the restaurant and spend the night having the buffet on their rooftop, which is possibly the most beautiful place you can find to have dinner at in Petra, Jordan. It offers unparalleled views of the city, with beautiful and simple lights along the walls of the roof, cosy chairs, blankets, and shisha of course. The perfect night out!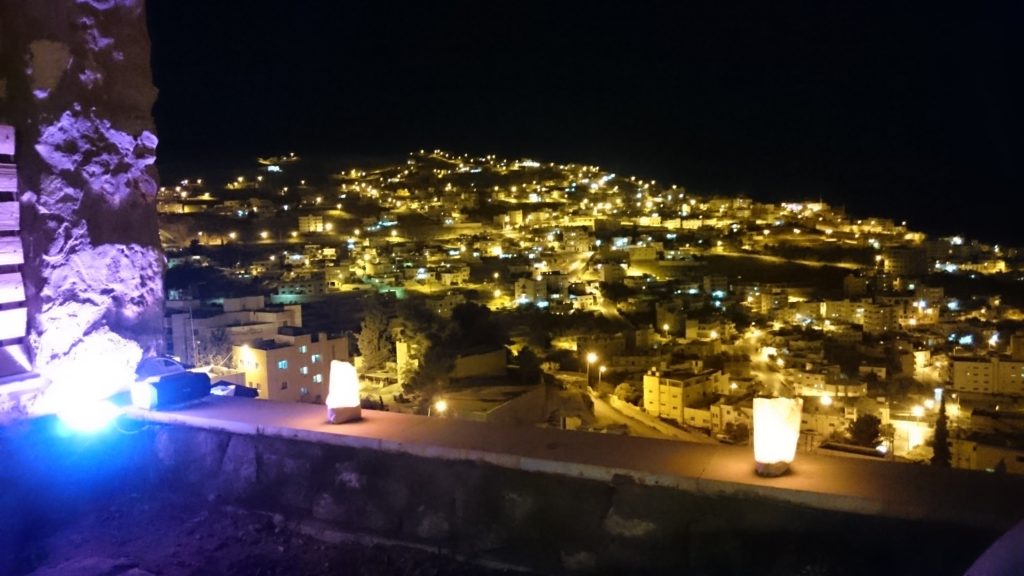 The hotel was called Tetra Tree hotel – it's a fairly new one, and if you are not insistent on staying at a five-star, we definitely recommend this one. They have brand new furnishings, great views, comfortable beds, and everything about the hotel is pretty much four star.
If you are looking for options at the higher end, there are a few five-star hotels located right at the entrance of Petra.
The buffet breakfast the next morning was quite disappointing, but we didn't care, because we were about to set out on the most exciting leg of our trip – Petra to Dead Sea via King's Highway.
Day 4 in Jordan – Dead Sea
The drive to Dead Sea is going to be one of the best drives you will experience if you are into roadtrips. Narrow, winding roads that are perfectly constructed, no unnecessary bumps and depressions and most importantly, the best view. When you head closer to the Dead Sea, you will get to drive along it, and this has to be one of the Top 5 Coastal Drives in the world, according to us. Simply beautiful.
There are a couple of points you can stop by on your way to Dead Sea, if you are interested in quickly browsing through some historic sites. Stopping at Mount Nebo is a must, it is very close to Dead Sea. If you have some extra time to kill, Karak Castle is an option too, but this will add an hour or so to your total drive time.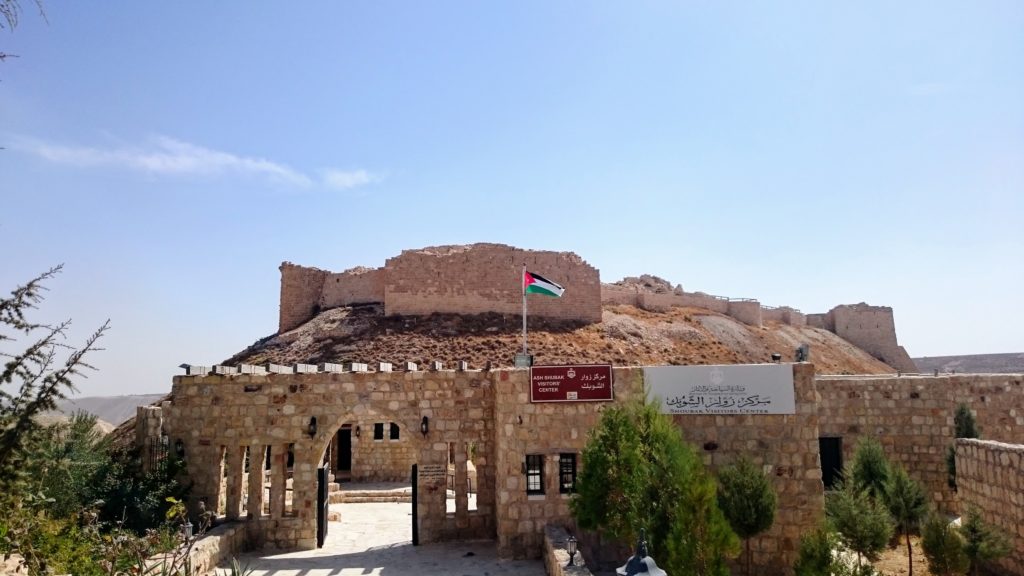 If you are spending even a day in the Dead Sea area, make sure you book a five-star hotel. They are not that expensive, and lets you experience living there in a whole different way. There isn't much to do in this area, which is why living at a nice hotel takes care of that. Besides floating in the Dead Sea, you can try out the various activities at the hotel, get massages, eat good food and in many cases, enjoy live entertainment too.
In our opinion, a day or two at max is more than enough to spend here. The appeal of course, is floating on the dead sea. The high concentration of salt in the sea makes it possible for anyone to float endlessly. The dead sea is 8.6 times saltier than the Ocean, and our pro tip is DO NOT put your face in the water under any circumstances.
We stayed at Movenpick Hotel in the Dead Sea, which is definitely one of the best resorts to stay at. The resort is large, has around three or four pools, great rooms to stay in with excellent views of the Dead Sea, and lots of things to do around the hotel.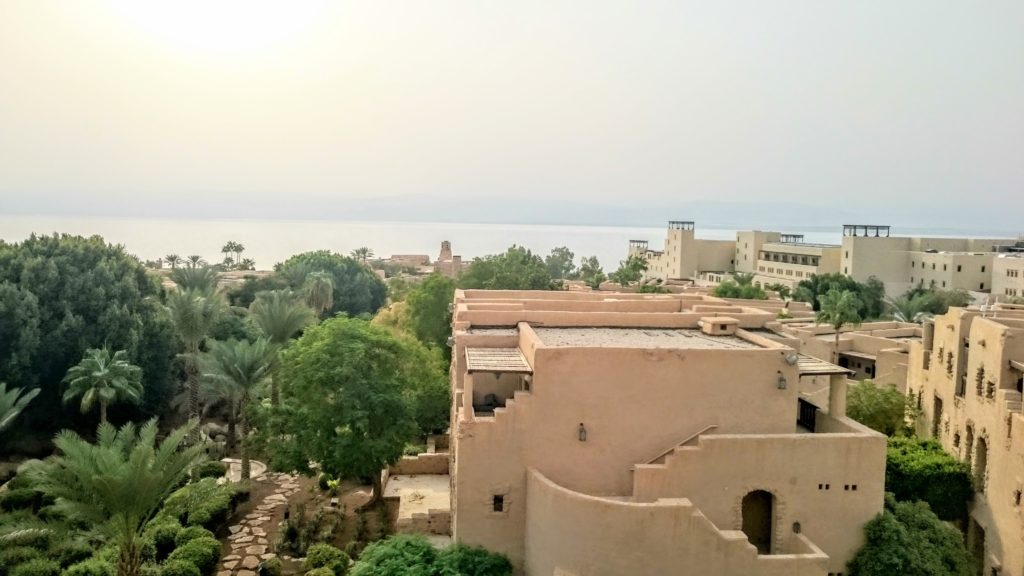 You can smother your body with dead sea mud, and then soak in the dead sea minerals for awesome after effects for your skin! However, floating for too long (more than 20 minutes for us), gets rather boring and uncomfortable because your movements become very restricted. We washed off the mud, showered in the open area and headed straight to the infinity pool.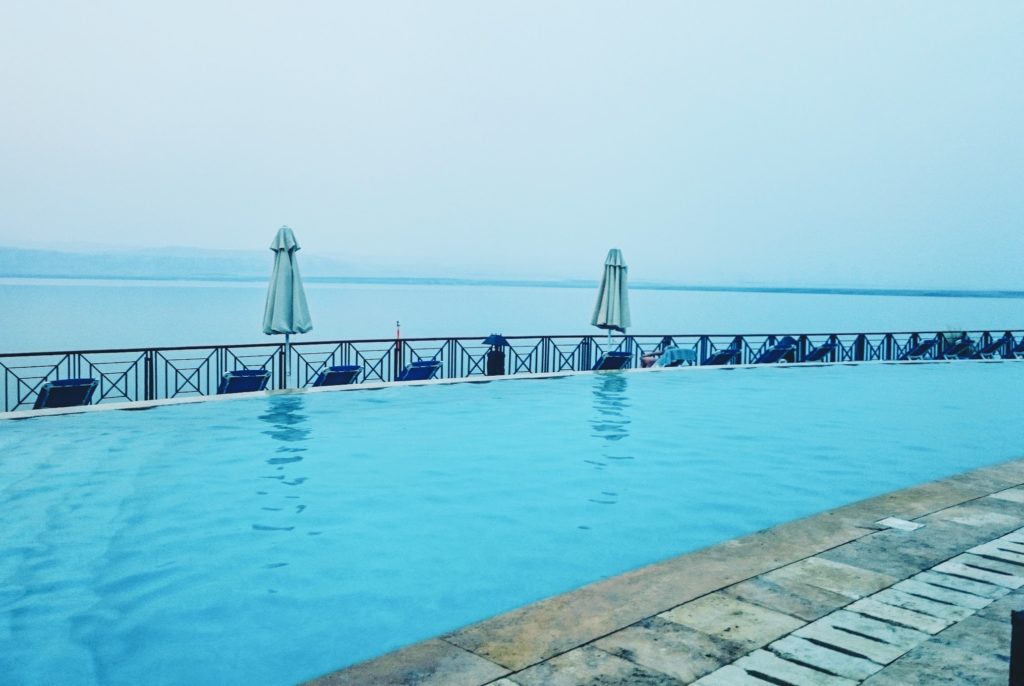 We dined that night at the Italian Restaurant – which wasn't the best to be honest, but they did have some live entertainment so it was a nice overall experience.
You will find that a lot of people will approach you, trying to sell Dead Sea products right from bath salts to face scrubs and as lucrative as it seems, do not purchase anything here. Since they sell in hotels, they automatically assume tourists have more money, and charge a massive premium on otherwise very reasonably priced goods. Of course, no one told us that, and we went slightly crazy with buying Dead Sea products. We later found the same stuff in Amman for less than a quarter of the price! Hugely disappointing. Even Duty Free in Jordan Airport sold the same stuff for much cheaper. So even if you don't get a chance to buy anything along the way, Jordan Duty Free is definitely an option.
We walked around the resort for a while before heading back to our rooms to get some rest. The next morning, we headed out to catch the buffet and the spread was fantastic. A variety of cuisines, large number of dishes and excellent quality of food. We headed out to the pool once again after lunch, checked out and hit the road again, for possibly the most exciting leg of our trip – Dead Sea to Amman via The Dead Sea Highway.
Day 5 in Jordan – Amman
Amman is such an exciting city, it is nothing like any other city in Jordan. It's fast, it's dynamic and you can feel so much life in the air. We only got to spend a day here, so we made the best of it.
Here's what we managed to do during our short time in Amman
Amman Citadel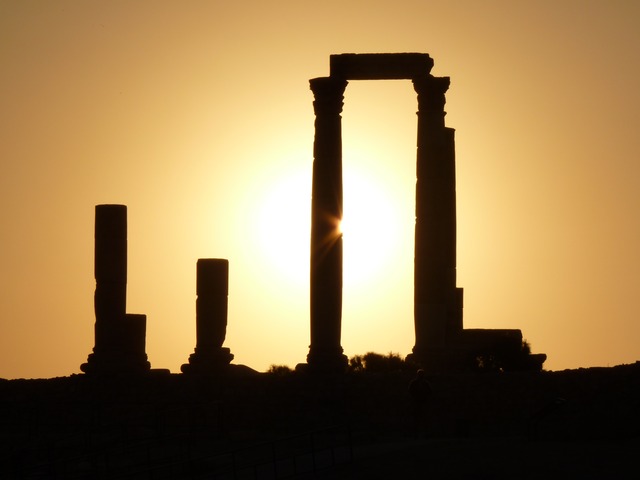 To be honest, we didn't have high expectations of this place, so we lazed around and wasted a lot of time and ended up reaching here quite late, after sunset. The gates were unfortunately closed, but just from outside, we saw how magnificent it really looked and were extremely disappointed we didn't arrive earlier. We stuck our heads through the gates to catch as much a view as we could. We definitely recommend going here before sunset, in time to catch the sunset and see what the Amman Citadel looks like at night – truly, truly beautiful.
Roman Amphitheatre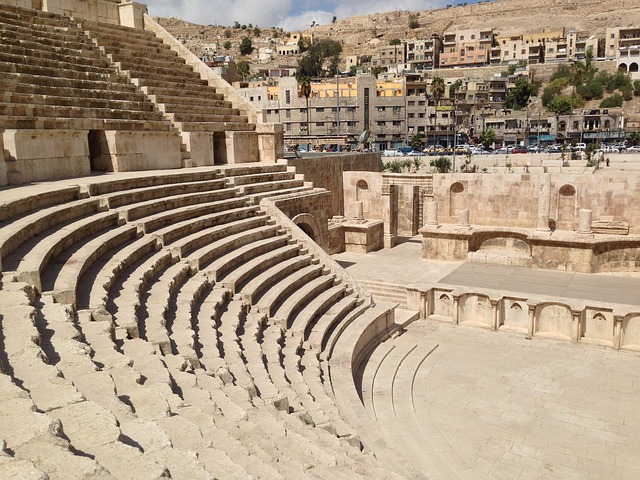 This 6,000 seat theatre dates far back to the second century, and is now a landmark in the capital of Jordan. You can't spend too long here, because there isn't much to do, but definitely drive by and at least see how majestic it looks from the top, if you are crunched for time.
Jerusalem
If you ever ask anyone what food to try in Jordan, they will say Mansaf without even thinking. And the best place to get it? Jerusalem. DO NOT leave Jordan without eating the Mansaf here because it is everything you dreamed of!
Habiba
The cuisine in Jordan is not particularly rich, and mostly features regular Levantine cuisine, however Kunafa is a hot favourite here and everybody swears by it. Stop by Habiba to try the best Kunafa in town! Rest assured, you won't regret it.
Rainbow Street
This is definitely a must visit place. Lots of dining joints, live entertainment, sheesha places, shopping, pretty much everything. We booked a hotel right at the start of Rainbow Street and luckily, there was a live talent show happening at Buffalo Wings and Rings restaurant right below our hotel. Before we stepped in here, we took rounds of Amman, trying to explore as much as we could.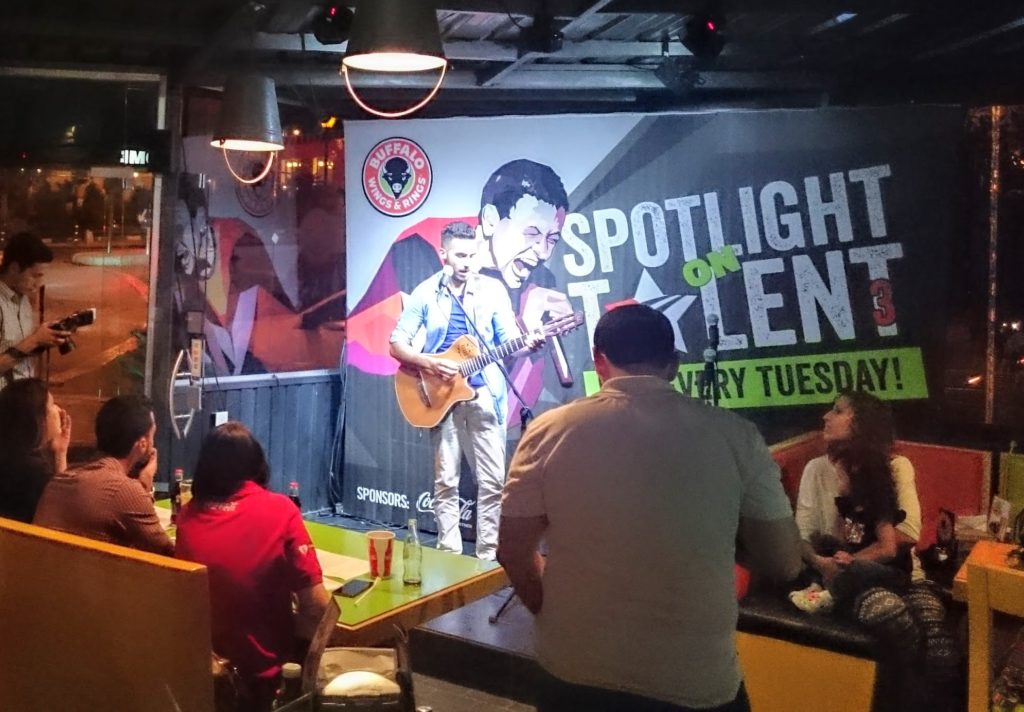 You can spend an entire evening just walking on the street – its lively, tourist friendly, and there is lots to do. However, we did notice that being women, a lot of cars kept pulling their windows down and trying to speak with us. Since the street was quite crowded, with a lot of tourists as well, we didn't feel unsafe at any point though. It is also advisable to park your car somewhere else, and walk here because parking is really hard to find on the entire length of the street.
Couple of tips for Amman
Although it is a reasonably safe place, it is a big, crowded city, so always ensure you are near your luggage at all times. We didn't experience anything personally, but we were warned of the same by several people in Amman itself.
Renting a car is a great idea, but be very careful while driving in Amman, it is nothing like driving in any GCC country. The drivers are crazy, fast and will not give you way. You definitely require some level of skill to survive these roads.
You do not really need to know Arabic, however learning a few words here and there turns out to be pretty useful, especially if you are shopping and trying to bargain.
Whatever your budget maybe, make sure you add 20% to that as tax. Literally everything in Jordan is taxable and none of this is mentioned when you book hotels and other things online. Every hotel we went to, we ended up paying almost 20% if not more, as additional charges, which took us by surprise and we were totally not prepared for it. So everything from your restaurant bill to your hotel stay has additional taxes.
Visa
Jordan has visa on arrival for USD 35.
Tickets
Qatar Airways has a direct flight, and it's the most convenient one. However if you are looking for cheaper options, FlyDubai would be your best bet with tickets averaging around QR 1,000, depending on when you book of course. The flight is roughly 2.5 hours.
Is there anything else about Jordan you would like to read about? Let us know in the comments!







by