Escape rooms finally come to Qatar
How to add life to Doha's ever so boring weekends? Book yourself and five other friends at the newly opened Adventure Rooms Qatar. YASSSS! Qatar finally has an escape room and guess what it is not that bad at all. We absolutely had to review this one!
What's an escape room? Real-life room escape games are a type of physical adventure game in which people are locked in a room with other participants and have to use elements of the room to solve a series of puzzles, find clues, and escape the room within a set time limit.
We decided to try it out and Friday night, after eating all sorts of brain foods all day – we headed to the place. The place itself was not difficult to locate but the parking was a real pain because we only realised we had to park in the ground next to the building after we crossed it. I'll detail the location towards the end!
So the property provides two options – Mad Scientist and Black Queen, the former being medium difficulty and the latter being the most difficult. We made a huge mistake – and chose the black queen thinking the mad scientist would be way too easy for us. If you're going to pick one, go for the Mad Scientist so you can leave black queen for your second attempt. You're locked in for 60 minutes, and have to find your way out. Although we didn't manage to escape the room – and we were oh-so-close – we had a lot of fun doing it. We also highly recommend you do this in teams, because it definitely requires a lot of team work. 4 – 6 people is ideal. And don't worry – no horror elements. This game is perfectly safe for all ages (9-99). And if you're ultra-competitive sorts – they have a duel mode too with up to 6 vs 6 people!
If you're 6 people, you pay QR 100 per person, if 5, then QR 110 per person and if 2, QR 150 per person (Minimum 2 and maximum 6 people)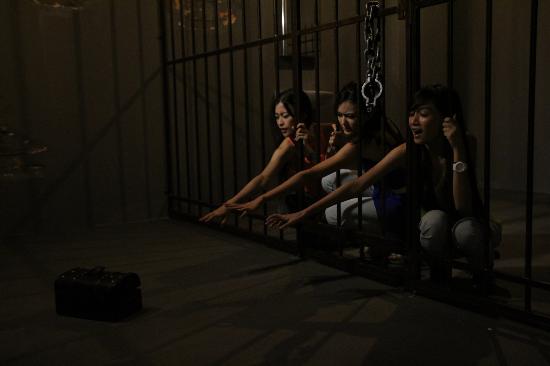 The game itself is very challenging, with lots of clues and puzzles to solve and put together. We really did underestimate how challenging it was and took it very lightly for the first 30 minutes. The last 20 minutes were the most action-packed with all of us running around to try and solve as much as we can in whatever time we have left.
Of course, I can't give any details about what happens inside – because that would ruin the excitement and the surprise elements. So what I'm simply going to do is highly recommend this for anyone who is visiting Qatar for a short duration, or even living here.
You can book online – www.adventureroomsqa.com
You don't have to pay online – booking is for free. You pay at the venue.
Experience – 4/5
Value for money – 3/5
QSG's survival ranking* – 7.5/10
*The QSG Survival ranking ranks experiences/places/things from 1 (the least important requirement for your survival in Doha) to 10 (the most important).
Location: The place is located on the second floor of Mannai Tower. If you're coming from Jaidah flyover towards Crazy Signal on the B Ring Road, you will find Mannai Travel at the end of the road, take the right before that, then first left and first left again till the end of the road where you will find a huge parking ground. Park here and walk up to the building, tower B, second floor. If you're coming from Toyota Signal, take a left at the crazy signal, and u-turn from the first signal to reach Mannai Travel building.
ESCAPE ROOMS UPDATE
Adventure rooms has recently added two new rooms to the experience – so if you have already tried Mad Scientist and Black Queen – good news! They now also have Prison Break and World Trip. If you have tried any of these out, let us know your experience!







by