WAG-YU DO THIS? Burger Gourmet Review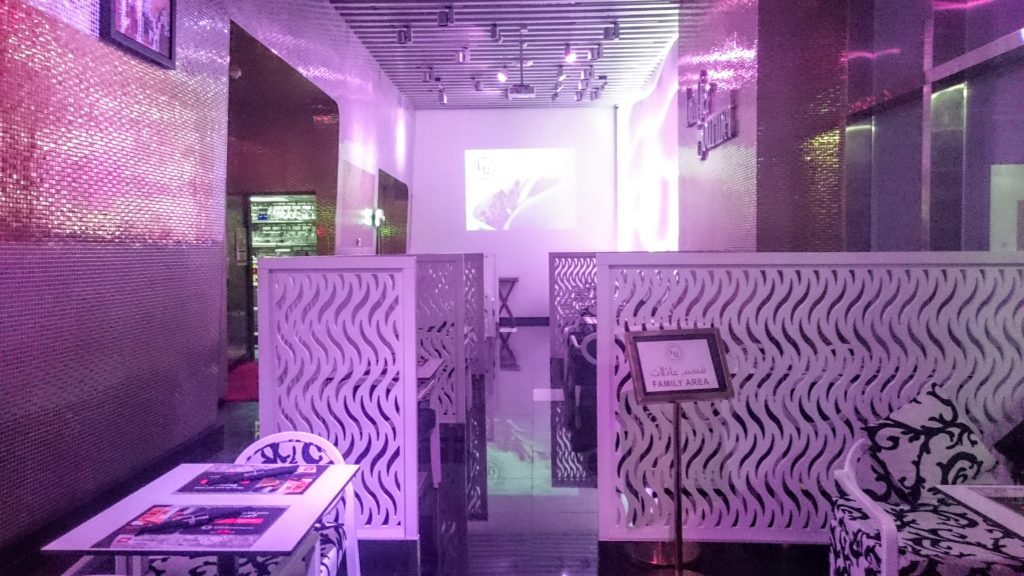 I'm not really the kind of person who would go to a gourmet burger experience intentionally, I like my burgers as junky as they can be, if I like them at all. So after much thought, I decided to give Burger Gourmet a try, especially since my partner-in-dine from the 3 Hungry Men was in town!
With Zomato these days, its almost impossible to be surprised when you try something new, so we had a rough idea of what we were getting into. I have to say their social media team created quite the buzz and for a while, practically everyone was talking about or eating at Burger Gourmet. Honestly, what really pulled me to go here was this amazing DSLR image of a light bulb drink I saw on their social media and I thought to myself, "That's it! They have me!"
Luckily, we found that the Entertainer had vouchers for this, so it was perfect.
We headed over to Lagoona Mall, near the Zig Zag towers, where the restaurant is located. It's actually a great, pretty well landscaped location.
We walked in to the restaurant, it was dull and totally empty. We were the only customers for as long as we dined there. I'm not sure how we felt about the décor. It has these dominant lounge-ey vibes, not the most comfortable seating and some random glittery walls. I couldn't have imagined eating any kind of food here, let alone burgers. I'm not sure what they were going for to begin with – a part of the gourmet experience maybe? The lighting was so drab, we couldn't get any proper pictures, or even see our food that well. Even if I was okay with the lighting, which actually would have worked great in a different set up, I was definitely put off by the seating! The chairs didn't have proper backrests, and the whole seating was slightly low for comfortable dining.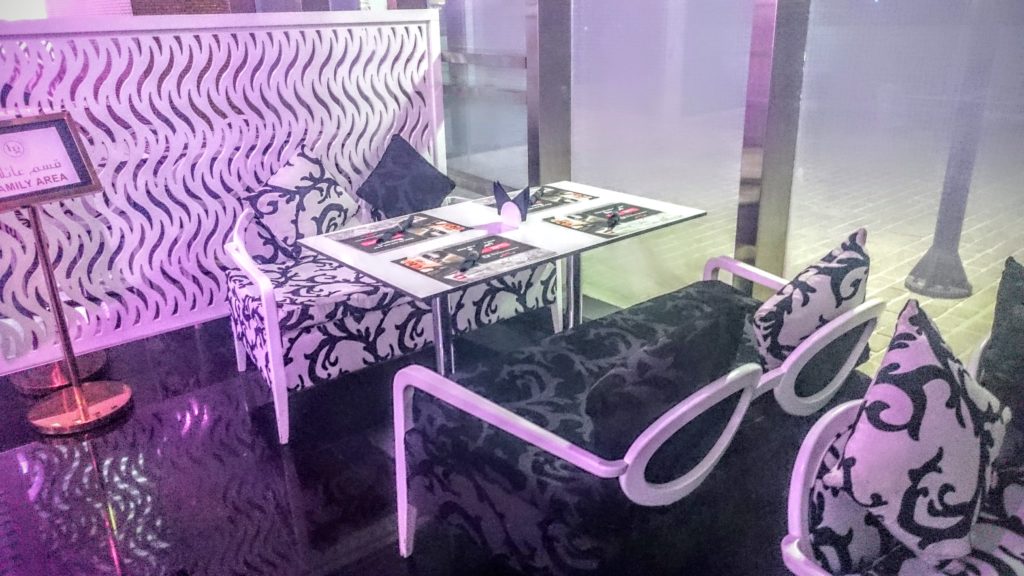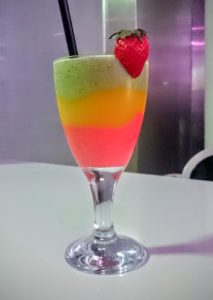 I was more than excited to order this exotic light bulb drink that I've been dreaming of, and guess what? I was beyond disappointed when I saw what its constituents were. Gatorade, grenadine and seven up!!! WHAT! I had berries and grapes and soda and blue curacao and all those other dreamy ingredients that make up perfection in my drinks! So should I just order this to drink out of a light bulb? I know you're snickering while reading this thinking I'm an idiot, I was thinking the same, so we skipped it and I picked a strawberry, mango and kiwi blend – BG Fame! It was glorious and rich and everything your mocktail should be. I loved it.
We ordered the Californian Dream (QR 45) and the Portlander Portabello Burger (QR 58). The Californian Dream was a chicken burger patty in a mint coriander bun with pico de gallo and crispy mushrooms. Yes, crispy mushrooms. Sigh. It was droolworthy – above average taste, and far from any other regular chicken burger in comparison. But the Portlander Portabello Wagyu burger was something out of the ordinary. It was brilliant. Wagyu. That says it all. The beef patty was delectable and so very tender and loaded with flavour. Just when you thought this burger can't get better, you taste the portabello mushrooms. This burger also comes with a side of coleslaw and truffle fries, and I love everything truffle. I would have been happier if they have over done the truffle on the fries, but it was pretty good either way.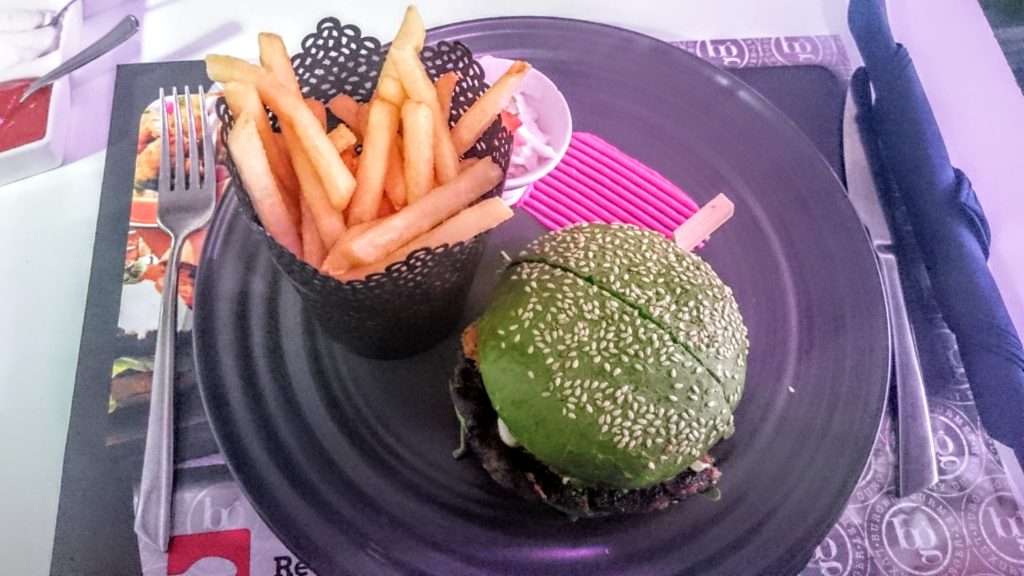 Although this comes with a coriander mint bun that is a funky green colour, you can opt to change it to regular, beetroot flavoured pink buns or squid ink buns, which are black. So if you're feeling adventurous, knock yourself out.
The taste was definitely fantastic, but was it worth it? I would have been really confused about this question if I didn't have the entertainer voucher. No, a big part of me doesn't think any burger can be worth 60 bucks, but the gourmet experience for half that price (Buy one get one free Entertainer voucher) is definitely something I'd recommend if you're really looking for the taste, and not the experience of dining there. Did I mention the disappointing quantity? The burger did not really fill us up by itself. I was expecting something slightly bigger in terms of size. So I'm not sure if I would go back here given how less the value for money is, for me. Add to that, the monochromatic, shiny, not-very-comfortable décor.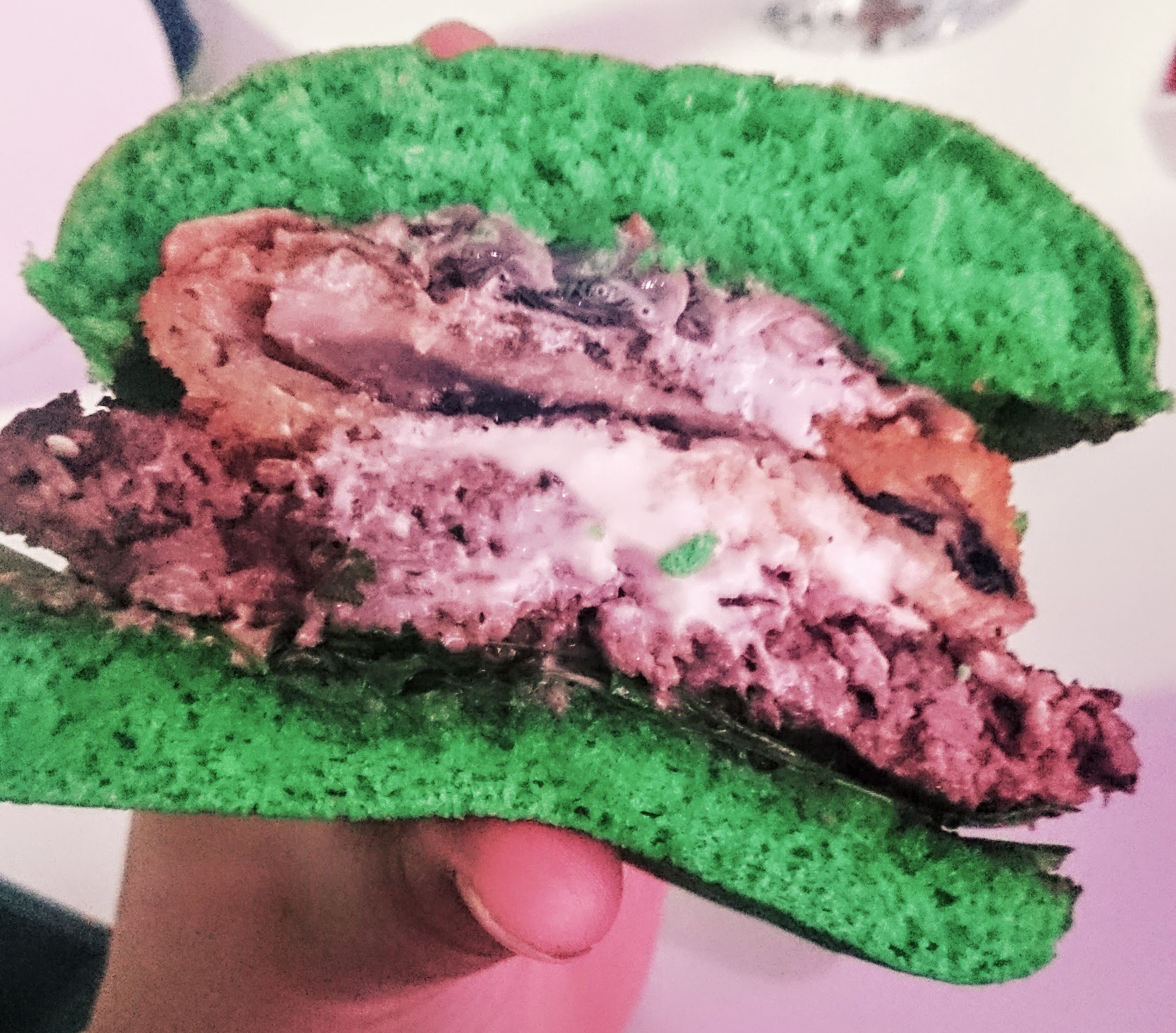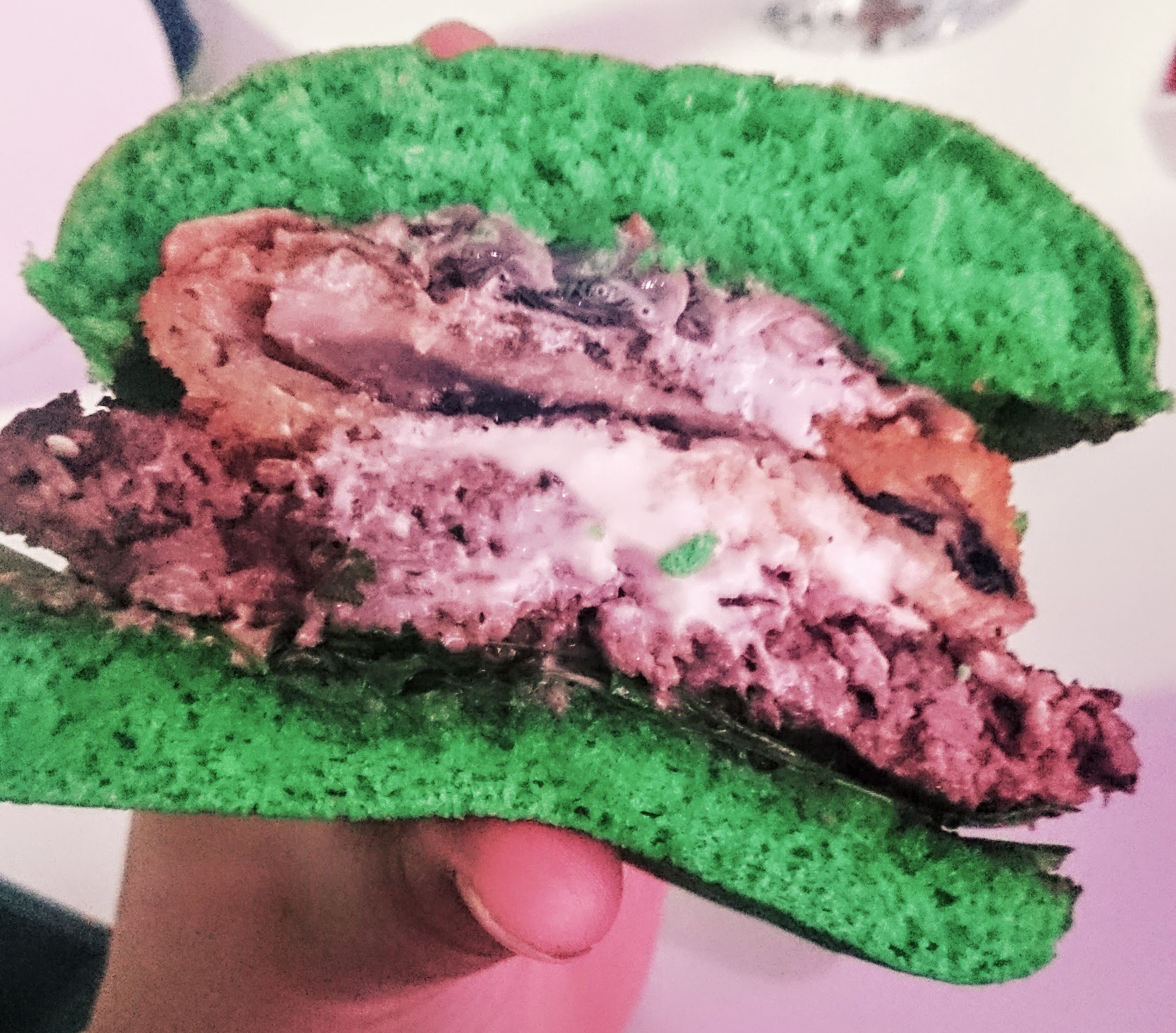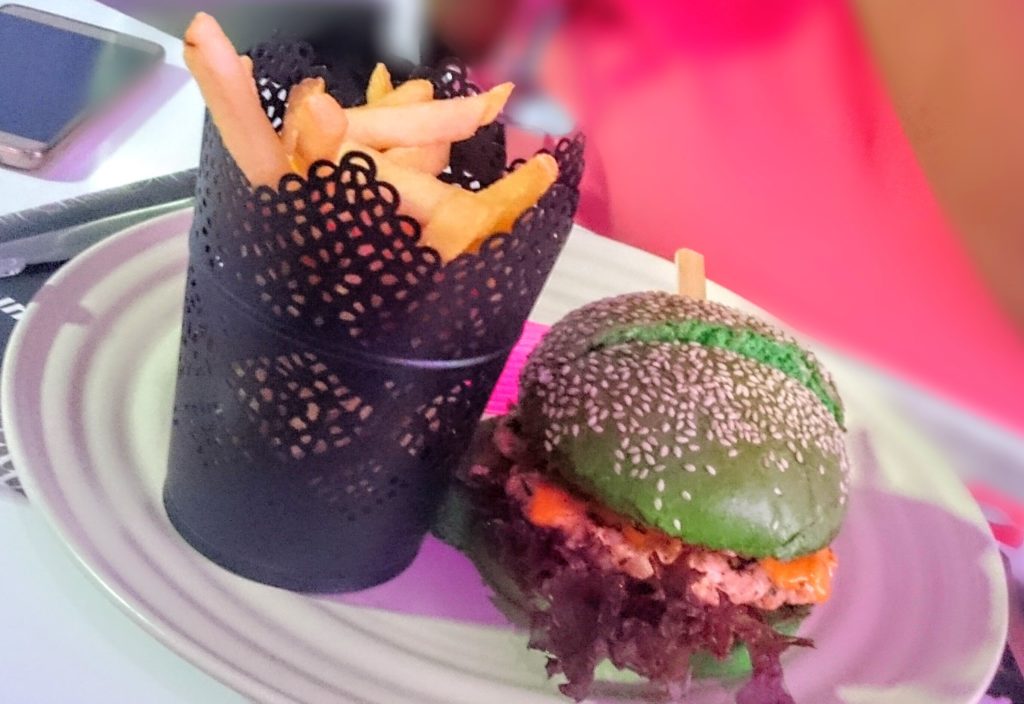 That said, the service was fantastic and the staff was helpful, kind and very courteous.
If I did go back to try any of their other dishes – I was eyeing some of the insanely expensive 300 Riyal burgers – I will update it here!
Food – 9/10
Ambiance – 6/10
Service – 9/10
Value for money – 6/10
QSG* Ranking – 6.5/10
*The QSG ranking ranks experiences/places/things from 1 (the least important requirement for your survival in Doha) to 10 (the most important).








by