Best Shawarma places in Doha
Let's be honest. Shawarma is your number one tool in your Qatar survival kit. In a place like Doha that's dotted with tempting shawarma options all over, having a favourite is going to need some taste research from your end. There are the high-end places that serve shawarmas at the price of steaks, and then the regular tiny joints that may or may not be good. The common ones include Petra, Marmara Istanbul, Sultan, Turkey Central etc and most of the lists talk about these popular joints.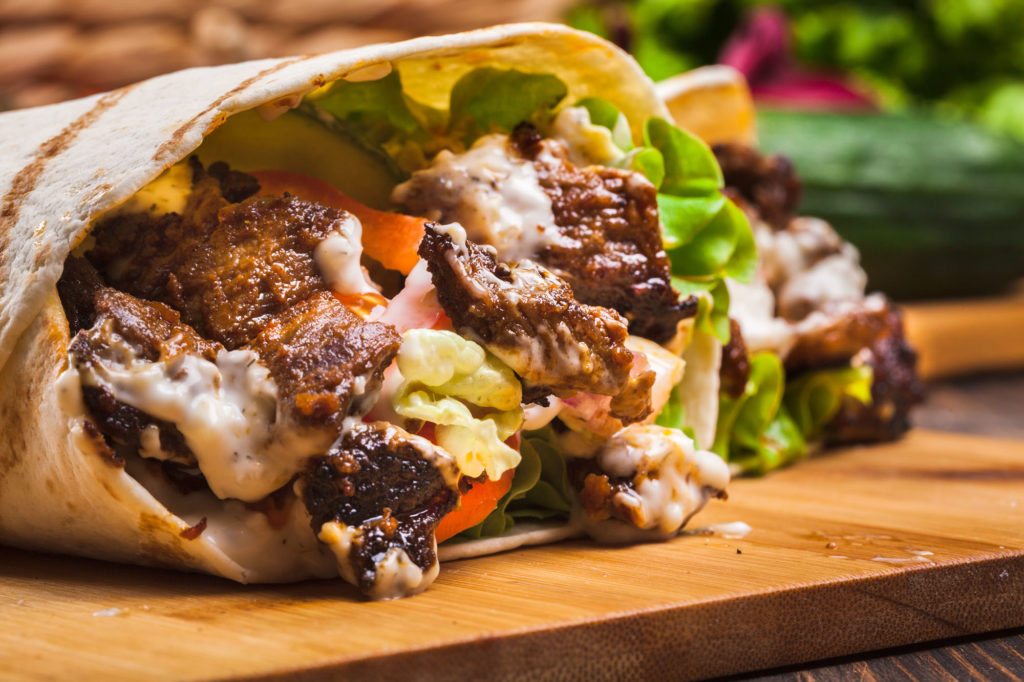 So QSG is listing out the top ten not-that-popular but oh-so-delicious shawarma places that you absolutely must visit. Trust us, these beat all the popular ones (except maybe Mashawi Al Arabi on their good days). Some of you may have already tried some of these, and if you have tried anything that's not listed here, do share your suggestions with us! For locations and menus, visit Zomato.
You're welcome.
Jabal Lebnan
This place is rather popular, but I don't see it getting as much attention as the other ones usually do and for me, this is my number one Shawarma option in Doha. I can eat from here everyday, and we are not just talking great taste, we are talking value for money. The shawarma comes in small and large options, I recommend you take the small because it is massive. And ask for the spicy option. It is not really spicy, but has a nice tangy less-spicy taste, and makes the shawarma really satisfying. They also toast the shawarma, which most places don't usually do. At QR 7 only, this has got to be one of the most economical shawarmas I have tried. This is definitely my number one spot in Doha. And while you're waiting – they serve you free falafels with Tahini sauce, which are again delicious.
Chtoura
Located in Al Sadd, this tiny restaurant serves great tasting flavourful shawarma. Ask for their garlic sauce and this makes it perfect. But even without it – you have a great shawarma. What I love about this restaurant is they deliver home even late at night. They have some other really good varieties of food too, but their shawarma definitely stands out. The large one is priced at QR 13.
Its almost impossible to park here, or even wait outside the restaurant, thanks to the narrow lanes. You might want to call them first and then come pick it up.
Istanbul Sea
Located right opposite the Civil Defense at Crazy signal, this place is mostly popular among residents in the vicinity but not many people know they serve up a really good shawarma. Priced at QR 12 for the large one, they run out pretty quick. Such is the demand. Take a beef chicken mix if you're feeling remotely adventurous, you won't regret it. Parking is definitely an issue here but if you're lucky enough, there will be someone in front of you already blocking several cars, so you'll be okay for a while.
Noor Turkey
This place is slightly hard to find, and hard to park too. But its located to close to Al Meera in Muntazah that you can just park in the Al Meera parking for convenience sake. This is officially the biggest shawarma we have ever seen in Doha. The size is absolutely massive and believe it or not, costs only QR 12. The taste is even better. We also tried the spicy version, and while it was a great taster, the oil they used kind of killed it for us leaving a bitter after taste. So we recommend going for a regular one.
Beit Al Jeddi
We can't emphasize enough on how much of a hidden gem this place is. They have fantastic shawarmas priced at QR 10 and tastes better than good. If you are still hungry, you must try the falafel and you might never look at another falafel again. the falafel is only 5 QR and comes in a huge size. Totally worth it. They have tons of other great stuff, try anything on the menu and you won't be disappointed. But the shawarma. Did we say how good it is?
Habeeb's
This is more of a late night grab and go kinda place if you're living in that area (mattar kadeem). They have big and small options – big is QR 12. They're quite hands on with service, come to your car even if you are parked slightly far and bring your order fairly quick, in our opinion. In case you order the spicy shawarma, be prepared for a real spicy one. Usually the shawarma places have a sort of tangy flavoured spicy sauce, which is great. But in this one its actual chilli paste and you will really feel the magma erupt in your insides. But the taste? So, so good.
Gad
This is not a regular shawarma and is the Egyptian version of a shawarma that comes in bread, not the Arabic bread, but more like sandwich bread. Its not overly spiced and is quite filling. Costs QR 10 and is definitely a nice a break from the regular shawarmas. Gad is an Egyptian restaurant and while you're there, try the pies too J
Jaal Cafeteria
This tiny cafeteria in Musheirib opposite Home Centre makes good shawarmas and although they might not be the best you have ever tasted, they are way above their actual worth at QR 5. Small sized, not very local, but tastes great nevertheless and at this price, you can't complain.
Chicken's House
Great size, great taste and great variety. If you're bored of all the regular shawarmas, these guys have a interesting menu that includes Mexican shawarma and Italian shawarma besides others. Although, we tried the Mexican shawarma and there wasn't anything Mexican about it, it still tasted great. Side note – it was slightly dry for our liking, you might want to address that while ordering if it is something you look out for! Costs QR 13.
Mr. Shawarma
This place is rather new and located in Musherib, right next to Home Centre. It is a proper restaurant set up, so if you're waiting outside and honking, you're just going to embarrass yourself. No car service. They have a self-service counter inside and thankfully, a brief but interesting menu. They have mentions of the chef's special sauce in almost all their options, and it's a really good but really spicy sauce. The regular shawarma is amazing, priced at QR 8. The spicy shawarma is even better however, its quite spicy (like real spicy), and it's the most no fuss shawarma you will possibly find. Fries, pickles, the chef's special sauce and the shawarma in Arabic/Lebanese bread. Simple and perfect. Their signature sandwich is pretty great too at QR 14. Order the spicy version in that one!
Featured image credit: http://www.shawarma-king.ca/







by