Aqua Park in Qatar – Review
QSG was recently invited to try out Aqua Park and surprisingly, despite being here for over four years, it was the first time we went there. We guess there was no real motivation before, especially after trying the likes of Atlantis' Lost World in Dubai.
Okay, the key to enjoying this place is to manage your expectations. It's a small water park (around 50,000 sq.m.), with a limited number of slides and rides, however, it is the ONLY water park in Qatar, and they recently did some renovation, so it's actually much better than before.
The weather is perfect now, and if you are too lazy to drive down to the beach, set up your stuff, roll around in the mud, dirty your cars, and do other fun things that come along with beach visits, then we definitely recommend visiting Aqua Park instead. They have a wave pool too, if that helps! True, it's not the same, but if you love water as much as we do, you won't care and you will be just as happy to float around in their lazy river, under the sun.
Also, this definitely beats spending the day at a hotel pool, no offence to any of the hotels. For this value, you get to spend an entire day on slides, rides and in pools, bonding over wet burqinis while eating average-tasting but expensive cafeteria food!
Speaking of food, the dining options include oriental and Indian cuisine and fast food, besides some kiosks that service snacks, ice-cream, juices etc. There are sufficient places to dine at, considering the size of the park, however the food is definitely priced on the higher side. We didn't try enough food to give a verdict on the overall taste, but we liked whatever we had. Bear in mind, you're here to get some sun and have some fun, so food shouldn't be a priority.
Aqua Park rides
The Surfing Machine
The Stingray Surf Machine is the newest addition to Aqua Park. For the first time in Qatar, it's possible to ride up curved sidewalls at 90 degrees to the direction of the water flow providing you with a thrilling body boarding experience. And you know what's even more exciting? Standing outside the Stingray Surf Machine and watching others surfing 😀 We highly recommend you only judge them in your mind!
Wave Pool
Six different wave patterns and intensities of artificial waves, with a constant flow of breaking waves, makes Jack a very playful boy. Catch some wave action at the large wave pool!
Lazy River
Truth be told, we have tried better. Much better. But let's not forget this 200 m. Lazy River is the only one in Doha, and you can waddle away and chill under the sun – the kinda stuff perfect Friday afternoons are made of.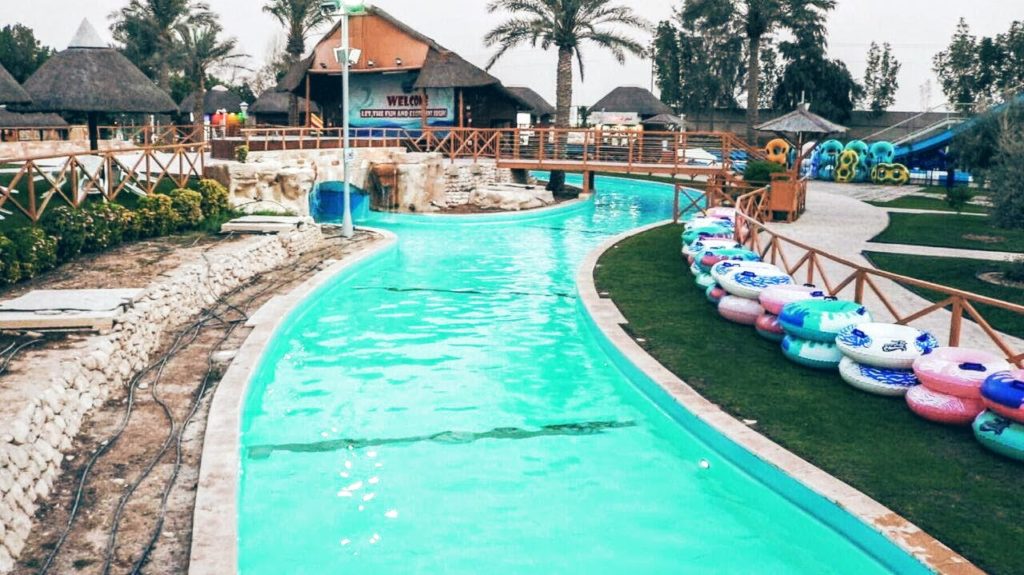 Lagoon Pool
The lagoon pool is located close to the juice bar and café, so yay! It also has a waterfall, a cold sprinkler, and underwater stools to sit and chill!
Speed Lines
Aqua Park has an aquatic version of Formula 1 racing, as they claim. Challenge your friends to a race on the four-lane water slide for no monetary benefits at all and enjoy every exciting bump while you're at it.
Boomerango
The boomerango features a series of surprise twists and turns and curves and dips, and the shooting ramp at the end of it catapults you upwards and down into a huge splash! Fu-un.
Tube Slides
The Tube Slides give you the same thrilling drop from a 20-meter high tower like the Space Boat, leading you into in a giant water bowl.
Space Boat
This is a 20 m. drop from a high tower into an open tunnel.
Pirates' Bay 
This pirate-themed aquatic play area is possibly more exciting for adults than kids. Brave the forces of water by standing under the giant tipping bucket that pours 2000 gallons of water every two minutes.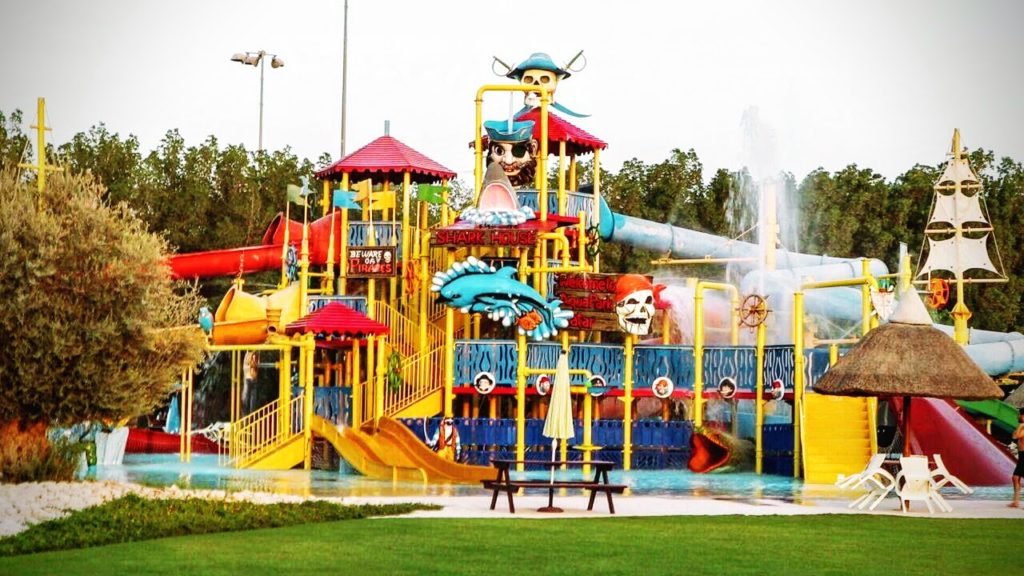 African Village 
This shallow-water playground features animal shaped slides and mushroom showers in an African village setting. Let the kids enjoy a giraffe shower or have an elephant spray them with its trunk.
Bumper Boats 
Bumper cars + water = bumper boats! Kids get to drift around in colourful boats at the special aqua boat racing tracks in Aqua Park.
Jacuzzi Cave 
Okay Jacuzzi Cave is a real thing. Just grab a tube, and allow the currents to drift you around while you enjoy some aqua relaxation therapy.
Things about Aqua Park you should know
The park is staffed with lifeguards to ensure safe fun for everyone. 50 lifeguards, 12 security officers and 20 cleaning staff work to keep Aqua Park clean, safe and fun for everyone.
T-shirts should be avoided and proper swimwear must be worn while riding any of the body slides. Tubes are provided for all slides that require a tube.
Diving is strictly prohibited in any pool at the park.
Height restrictions are posted for all attractions and will be enforced. It is recommended that an adult accompanies minors at all times.
To maintain the quality of water, the park is equipped with a state-of-the-art filtration system that is certified by the World Water Park Association Aqua Masters. Regular water treatment is carried out to maintain the highest quality of water.
Tickets
If bought at Aqua Park: Adults – QR 180; Children – QR 130
If bought online at www.aquaparkqatar.com/online-store: Adults – QR 155; Children – QR 105
The Surfing Machine costs QR 50 extra for unlimited usage during the day.
Timings
Weekdays (Sun – Wed): 10am – 7pm
Weekends (Thu, Fri): 10am – 10pm
Saturdays (only for families): 10am – 8pm
Parking
Once you drive straight down from the main road, there is a huge parking area right outside the entrance to Aqua Park.
Other facilities
They have a store where you can buy all sorts of swimming gear, and other things, right at the entrance of Aqua Park. They also provide lockers with waterproof hand-bands that work as keys to open the lockers, besides showers, changing rooms etc., separate for men and women.
Location
Aqua Park is located on Salwa Road, opposite Abu Nakhla Petrol Station. It is approximately at a distance of 15 km from the Industrial Area roundabout.
Click here for the location.
Why you absolutely can't miss going to Aqua Park
For a limited time only, Aqua Park tickets are priced at only QR 100!!!







by