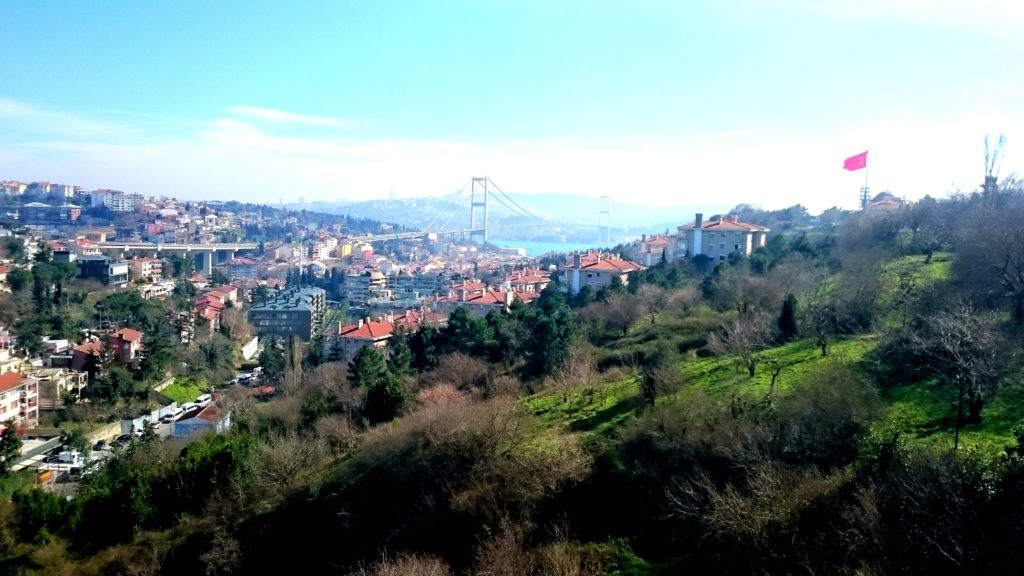 The gorgeous city of Istanbul is filled with everything that makes me happy – cold winter nights, great food, lights and lots of lights, history, culture and nature! This is the only city in the world split between two continents and it's just as exciting to see as hear. The beautiful Bosphorus Strait connects the Asian side with the European and this is an experience you cannot miss.
I landed in Istanbul airport at around 6pm from Antalya and was supposed to catch a flight back to Doha on the same day, but I had a wave of confusion and amidst that, I quickly decided to postpone my ticket by a day to experience Istanbul. After swiftly booking a hotel that seemed very reasonable in a great location, I took a taxi to Sultanahmet. The ride from the airport was around 30 minutes (keeping in mind it was late night and there was no traffic) and cost roughly 50 Turkish Lira (TL) (Conversion rate – 1 TL = 0.9 QR).
There were several options to get to the hotel including the metro, however, I was too exhausted to sort out the routes and opted for the easiest way out. When I reached the hotel though, I realised the metro station was right there and would have cost barely 5 TL if I had used it.
I was pretty exhausted by the time I reached the hotel, so decided to stay in that night. However, for your convenience, here are a few things you can do at night in Istanbul.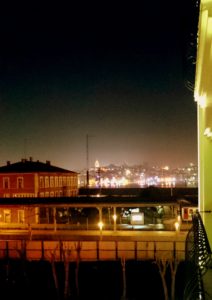 About the hotel

Dream Bosphorus, located in Sirkeci, turned out to be a fantastic choice for a night's stay. Priced at barely TL 90 or QR 100 (roughly), it was well worth the money. The room was small yet very cosy, with a balcony that overlooked the Galata Bridge and the view was gorgeous. Every second I stood there, I felt the need to get out and explore, but my rapidly depreciating stamina ensured that I dragged myself into bed and watched some very amusing Turkish cable! Right outside the hotel, barely two minutes away is the main metro station, and beyond that is the tram station as well. Gulhane Park, which you should definitely visit is 200m away from the hotel and Topkapi Palace is a five minute walk. Unfortunately I was there on a Tuesday and the palace was closed, so I do recommend checking what tourist spots are open on the days that you are visiting. The hotel receptionist was very helpful and gave me a map explaining what routes I could take and places I should visit.
Itinerary
8:30 am – Head out
I came down for a quick but delicious breakfast served free of cost at the hotel, checked out but kept my luggage and headed out to the tram station. Right outside the tram station, there are kiosks where you can buy a tram card for 10 TL and recharge it at any of the machines near the station. This was a little confusing for me and I did take some time to figure this out because literally nobody spoke English. I found a small tourist information desk which wasn't very helpful but managed to figure out I needed to buy the tram card first. I recharged for about 20 TL because I didn't have smaller notes, but it lasted me the whole day with each tram trip costing around 4 TL. I got off at the Sultanahmet stop, which is two stops away from Sirkeci.
10:00 am – SultanAhmet Mosque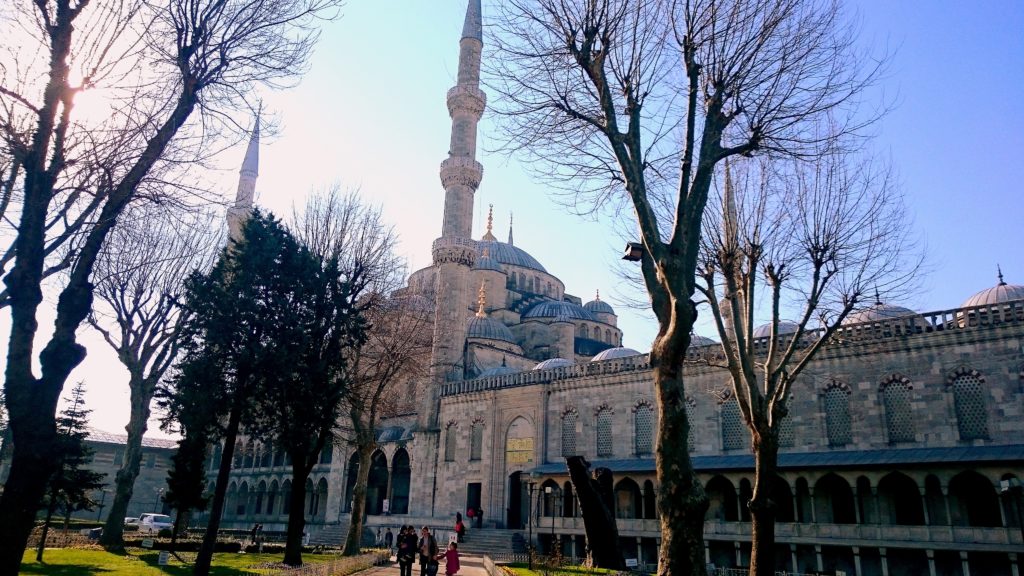 The walk to the mosque is barely two minutes from the tram station and it was such a beautiful sunny morning. More popularly known as the Blue Mosque, it is the only two in the world with 6 minarets, the other one being in Adana, Turkey. The attractive blue tiles adorn the walls of its interior and the mosque is an exquisite merger of Islamic architecture, Byzantine Christian elements and Ottoman mosque development. There is no charge to enter, and the inside is just as beautiful. You must cover your head, and either remove and deposit your shoes, or wear plastic bags around it, available near the entrance.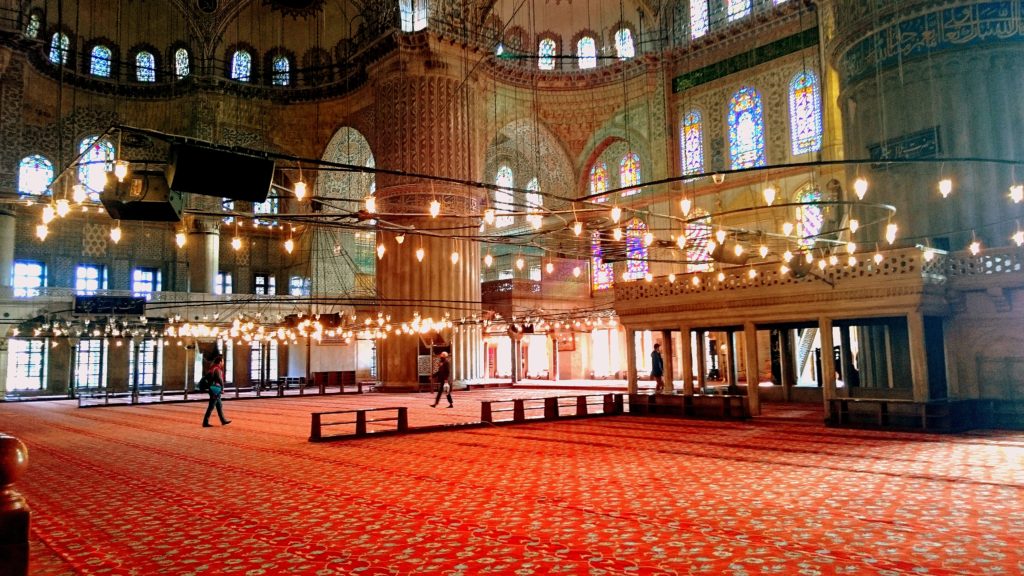 Be wary of the annoying retailers that corner you outside the mosque, insisting you visit their stores. They are rather pricey, and can take up a good amount of time off your hands, especially if you're visiting for just a day or two.
11:00 am – Hagia Sofia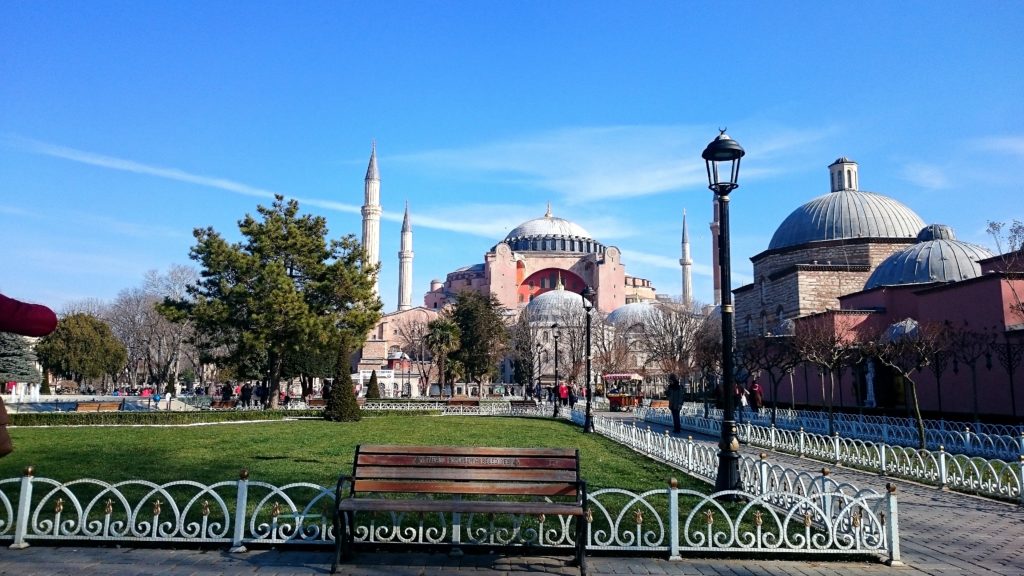 The brief walk to Hagia Sofia from Blue Mosque is really beautiful, and great for taking pictures of both places. The entry ticket is priced at 30 TL and covers the entire place. The former Greek Orthodox Christian Basilica later turned into an imperial mosque and now serves as a Museum. Hagia Sofia is everything a traveller is looking to see on a short trip. The merger of Christian and Muslim elements inside makes you wonder how divides ever even created when such unison brings about infinite and eternal beauty. This is definitely a tourist attraction you cannot afford to miss.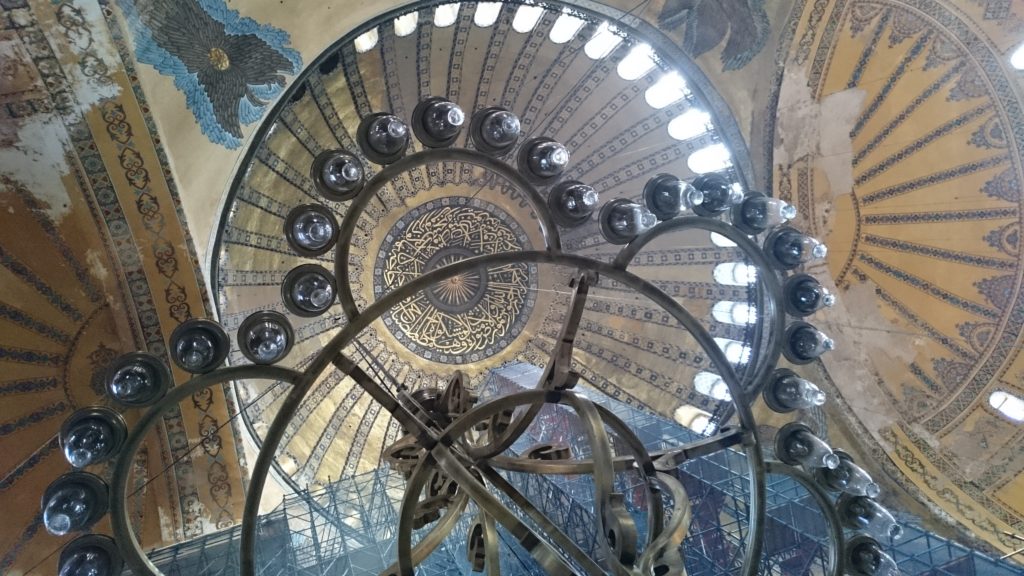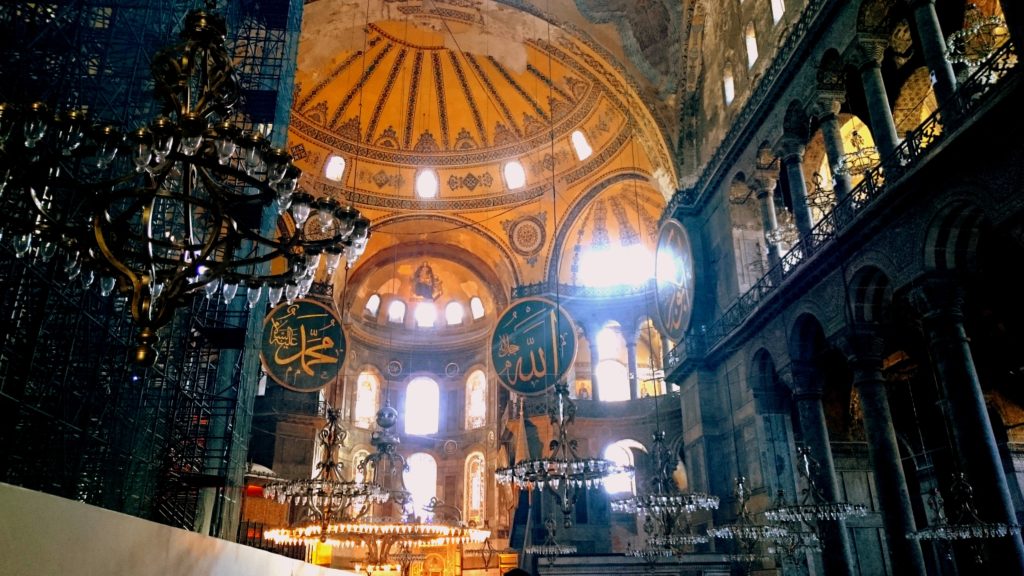 12:00 pm – Basilica Cistern
The Basilica Cistern is the largest of hundreds of ancient cisterns that lie beneath the city. If you're a James Bond fan, you'd be happy to know this was a location for his movie From Russia with Love. For gamers, Assassins Creed also has a memory sequence where you can explore a section of this cistern. Its located very close to Hagia Sofia, less than a five minute walk away.
1:00 pm – Lunch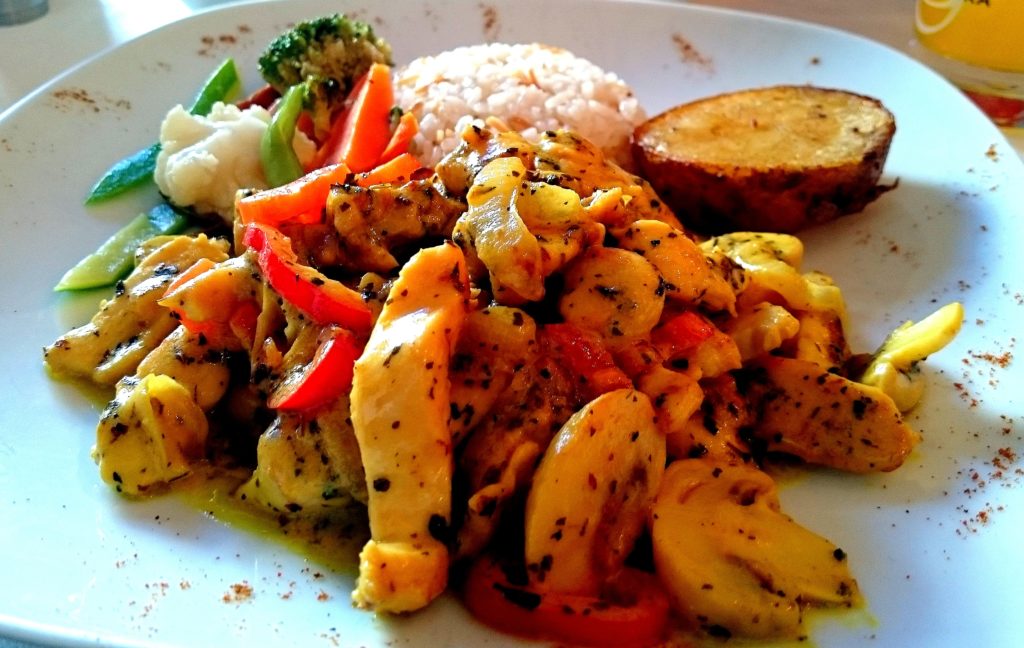 If you walk back to the tram station of Sultanahmet, you'll find lanes across the street lined with restaurants. Although they are slightly pricey, it's convenient if you want to grab a quick lunch in an authentic place. The narrow cobbled streets are lined with great eateries, each one looking better than the next. I walked down till the end of the street and found a cute spot that served some great Anatolian delicacies.
2:00 pm – Big Bus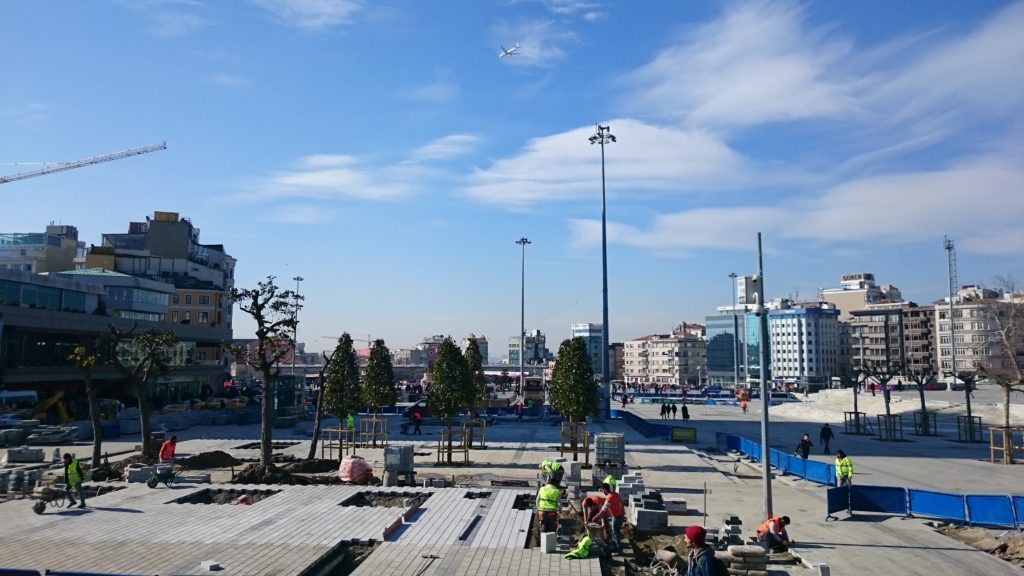 The Big Bus tour is possibly the best way to get around and see the city in a short span of time, for a reasonable price. A two day ticket is priced at TL 95 and covers both the Blue and Red lines. Due to shortage of time, I picked the Red Line because it had all the places I absolutely wanted to cover.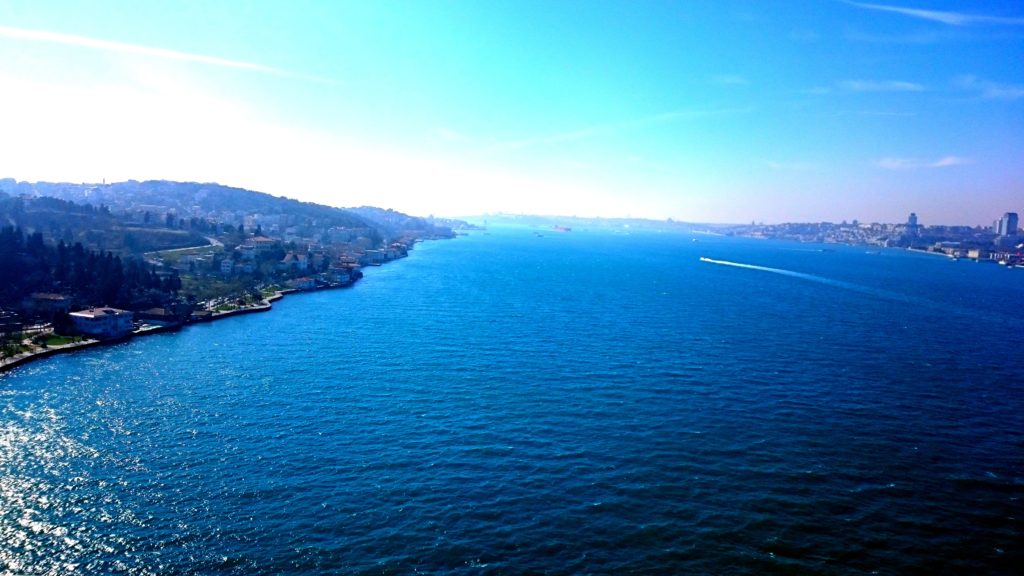 The most exciting part of this trip is crossing over the Bosphorus bridge to the Asian side of Turkey, which is really beautiful. The turquoise waters on both sides are breathtaking and if you're sitting on the top of the bus, the strong, cold winds are really going to get you, but it adds to the amazing experience. If you have around four hours approximately, I highly recommend you do the Bosphorus Cruise.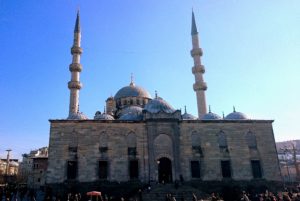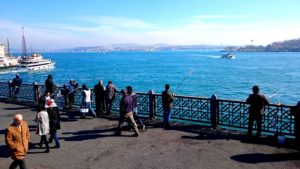 5:00 pm – Grand Bazaar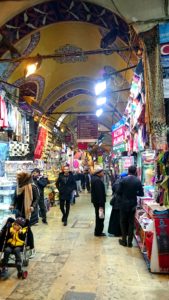 This had to be the highlight of my short stay in Istanbul. This is the most gorgeous shopping bazaar I have ever seen. As soon as you enter, you're surrounded with beautiful thing you've ever wanted to buy. I couldn't resist and straight away walked to one of the attractive Turkish lamp stores and went all out. Literally! I must have easily bought over five individual lamps. BIG MISTAKE. I ended up carrying a heavy bag of lamps throughout the rest of the bazaar which hindered my full shopping experience. I bought dozens of souvenirs, silk scarves and of course a whole lot of Tea, Turkish delights and the very famous Baklawa.
A few quick pointers – try to pay in Turkish Lira as far as possible and you can easily withdraw cash from the ATMs that are right outside the Bazaar. While on the way in to the bazaar, I was stopped by several retailers who kept insisting I visit their store. So I promised them, I'd take a look on my way out.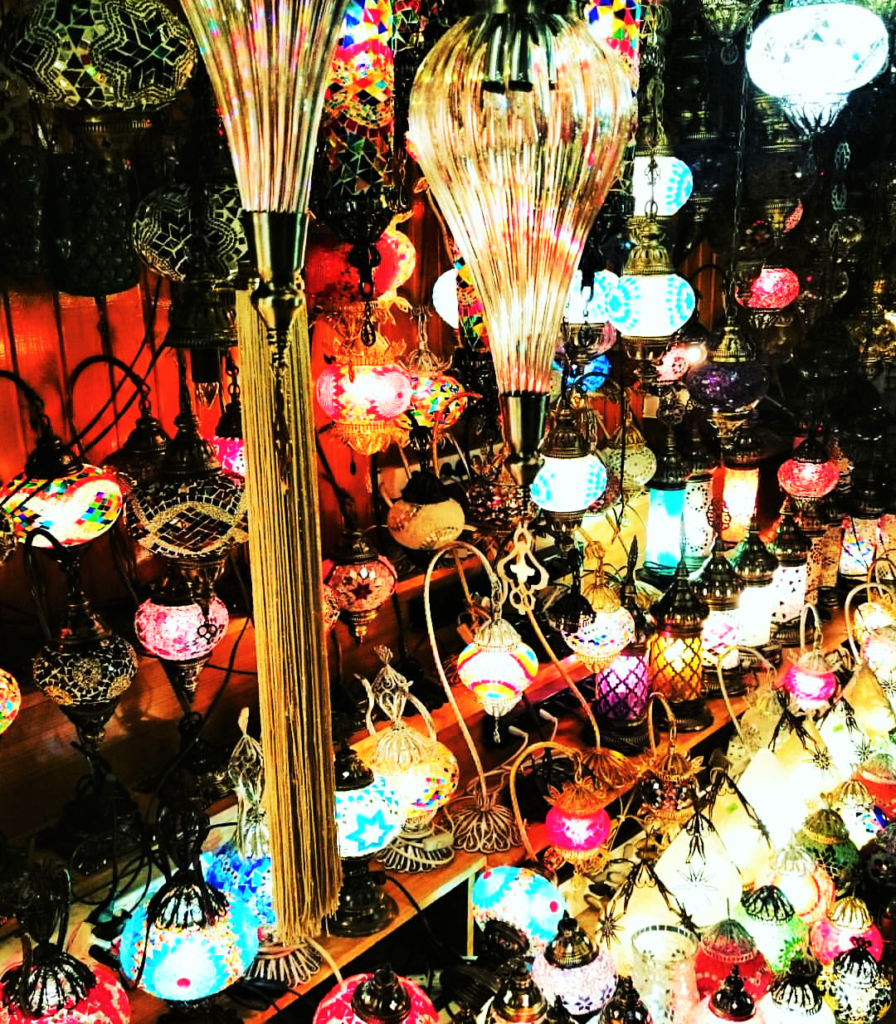 Unfortunately, I shopped a lot and ended up spending all my money inside, so when I came out, I didn't want to waste their time and politely told them I have no more currency left. Not only were they enraged, but they actually cursed me!! One retailer very angrily yelled and said: "You will never buy anything in your life again." OMG. So much for hospitality! I also eventually found out that this is a common experience tourists undergo at the Grand Bazaar, so don't worry about it. Although for those of you who are willing to be insulted, they do have some almost real looking fake merchandise.
7:00 pm – Dinner
Since I had to rush back to the airport, I chose to quickly snack on some Turkish specialities outside the Grand Bazaar. But for those with more time, there are tons of great eat streets to try out in Istanbul.
Getting to the airport
The traffic on the roads of Istanbul in the evening is mental. It took me over three hours to cover a 20 minute distance and I almost missed my flight back to Qatar. If you have the option of taking the metro to the Airport, I strongly recommend you do that.
Flights
My flight to Istanbul was sponsored by Turkish Airlines as part of a press trip to Antalya, and although the business class wasn't particularly the best I've experienced, I have to say it was a comfortable five hour flight to and from Doha. Their IFE (In Flight Entertainment) has some pretty great options and the Flying Chefs of Turkish Airlines deserve an honourable mention for their out of this world on-board menu. Turkish Airlines is known for its food and even on the economy, you'll feel like you're eating first class food.
The highlight of my airport experience had to be the Turkish Airlines exclusive lounge. I have never, ever seen anything like it. Right from architectural design to outstanding facilities, the lounge doesn't stop to impress. I would be happy to do a 24 hour layover just to experience the lounge entirely, which by the way I don't think is enough time. Right at the entrance, they offer free massages to lounge users (I swear it's true) and don't even accept tips :-/. The food selection is extensive and fantastic, the seating is comfortable, bars are all over the two floors of the lounge. They have a mini-cinema, all sorts of gaming consoles and live simulations; gosh I can't even clearly remember everything they offer. If you're flying business on Turkish via Ataturk Airport, I urge you to go and indulge in this heaven they call a lounge.
If you're on a budget trip, I recommend FlyPegasus which has great economy deals on direct flights to Turkey from several GCC countries including Doha and Dubai.
Visa information
While several nationalities have visa on arrival options for roughly 75 USD, Indian passport holders like myself have to physically apply for a visa before travelling. You can either go for an eVisa or apply through the embassy. Just remember that it takes a long time to get appointments at the Turkish embassy, so make sure your trip is planned well in advance. You'll have to log on to the visa website (google it lazy people), fill up all details of your trip and make an appointment at the embassy. The form filling process is a real pain, but luckily the Turkish Airlines officials in Doha assisted me with it and I had no problems getting a visa quickly. If you possess a valid Schengen visa, you can use that to enter Turkey as well.
Turkey should definitely be on your travel list and if you need any more information or specifics, leave a message or your feedback in the comments.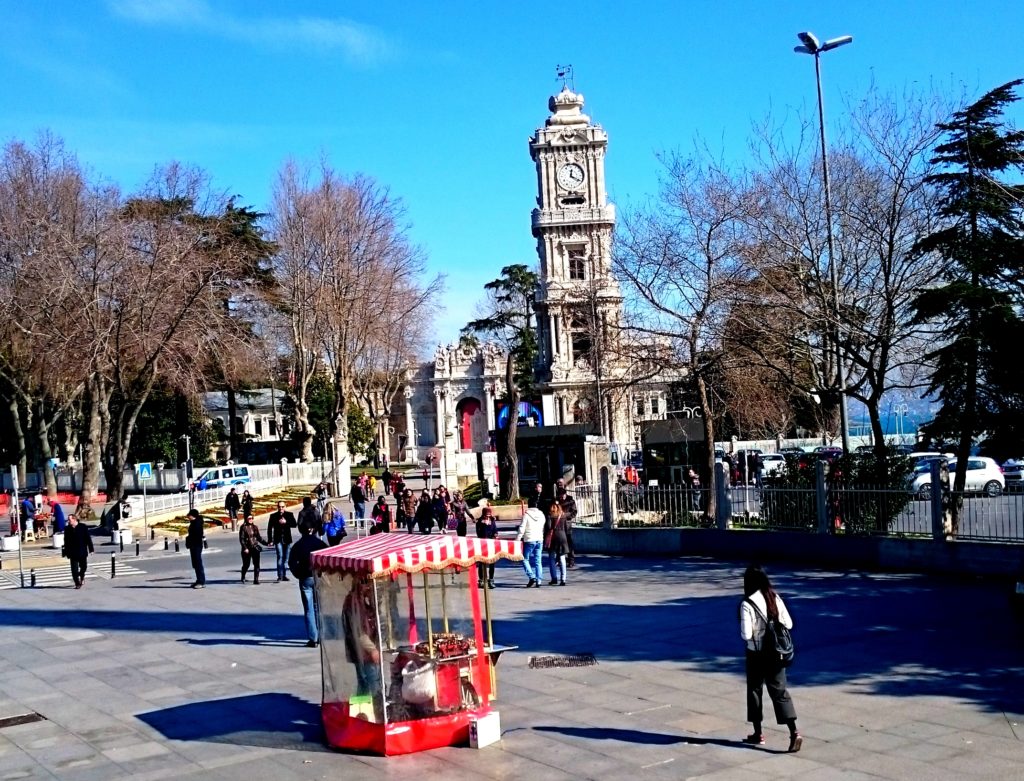 *All expenses in Istanbul were borne by me, except for the flight. Views and experiences are my own. All photography is my own (Sony Xperia Z3), except for the featured image. Featured image: medcezirhotel.net







by